Guía en español sobre desastres ahora disponible
La guía en español sobre desastres ahora está disponible en forma impresa. La distribución de la guía comenzará el primer fin de semana de agosto durante el evento La Movida celebrado en Pensacola. La Movida es una serie de eventos de información y registro de votantes programados para cada fin de semana de agosto en todo el noroeste de la Florida.
La guía ha estado disponible en línea desde junio, pero ahora está disponible en forma impresa para aumentar el número de lectores y la conciencia de los posibles peligros que incluyen huracanes, tornados, incendios domésticos y forestales, corrientes de resaca, explosiones, tiradores activos y mucho más.
"Vivir en la costa del Golfo, estar preparados para un posible huracán cada año es necesario", dijo Grace Resendez McCaffery, propietaria del periódico La Costa Latina. "Creamos este libro para ayudar a mantener segura a nuestra comunidad."
La guía sobre desastres también estará disponible en la mayoría de los lugares donde está disponible el Periódico La Costa Latina. Grupos e iglesias pueden solicitar paquetes del libro para distribuir llamando al 850-494-7899 o enviando un correo electrónico a grace@latinomediainc.com.
Spanish language disaster guide now available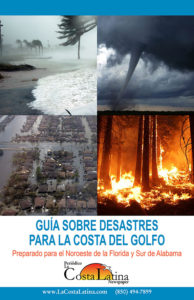 The Spanish language disaster guide is now available in print. Distribution of the guide will begin on the first weekend of August during the La Movida event held in Pensacola. La Movida is a series of information and voter registration events scheduled for each weekend in August throughout Northwest Florida.
The guide has been available online since June, but is now available in print to increase readership and awareness of potential dangers including hurricanes, tornadoes, home and wild fires, rip currents, explosions, active shooters and much more.
"Living in the Gulf Coast, being prepared for a possible hurricane each year is necessary," said Grace Resendez McCaffery, owner of La Costa Latina Newspaper. "We created this book to help keep our community safe."
The disaster guide will also be available at most places La Costa Latina Newspaper is available. Groups and churches can request bundles of the book to distribute by calling 850-494-7899 or emailing grace@latinomediainc.com.
[adrotate group="1"]