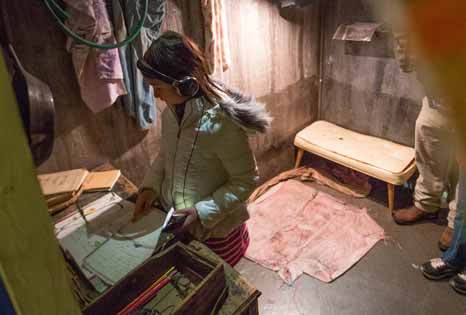 La experiencia de la compasión
¿Alguna vez te has preguntado cómo es la vida en otras partes del mundo? ¿Qué pasa si usted podría experimentar por sí mismo – sin salir de Alabama o Florida?
La experiencia de la compasión trae visitantes como cerca de otro país y cultura como uno puede conseguir sin un pasaporte. Esta pantalla interactiva e inmersiva permite a los invitados entrar en la vida de un niño que ha sufrido bajo el peso de la pobreza.
Pero el viaje no termina allí.
En el lapso de 20 minutos, los visitantes viajan con ese niño de la dificultad a la esperanza. Y en medio de la esperanza, la historia de ese niño se transforma a través del apoyo de la Compasión y la relación vivificante del niño con un padrino.
No te pierdas este evento que cambia la vida que trae Compassion International y las organizaciones participantes en toda la Costa del Golfo.
La entrada es gratuita y las exhibiciones son apropiadas para todas las edades. Haga una reserva en este enlace: http://www.compassion.com/change. Los paseos también son bienvenidos.El turista estaba en la zona por vacaciones con un grupo de amigos y compañeros de trabajo.
El Departamento de Bomberos de Destin encontró el cuerpo del hombre flotando boca abajo cerca de Sea Oats Condominiums. Había sido visto por última vez luchando alrededor de 200 yardas costa afuera del mar agitado cerca del restaurante Crab Trap de Scenic Highway 98 unos 40 minutos antes.
The Compassion Experience
Have you ever wondered what life is really like in other parts of the world? What if you could experience it for yourself — without leaving Alabama or Florida?
The Compassion Experience brings visitors as close to another country and culture as one can get without a passport. This interactive, immersive display allows guests to step into the life of a child who has suffered under the crippling weight of poverty.
But the journey does not end there.
In the span of 20 minutes, visitors travel with that child from hardship to hope. And in the midst of hope, that child's story transforms through the support of Compassion and the child's life-giving relationship with a sponsor.
Don't miss this life-changing event brought to you by Compassion International and participating organizations throughout the Gulf Coast.
Admission is free and displays are appropriate for all ages. Make a reservation at this link: http://www.compassion.com/change. Walk-ins are also welcome.
January 20 – 23, 2017
City Hope Church – Malbis
29964 Saint Basil Street
Daphne, AL 36526
City Hope Church – Mobile
4693 Airport Blvd.
Mobile, AL 36608
February 24 – 27, 2017
Destin United Methodist Church
200 Beach Drive
Destin, FL 32541
February 3 – 6, 2017
3300 Shamrock Street E
Tallahassee, FL 32309
Celebration Baptist Church
3300 Shamrock Street E
Tallahassee, FL 32309
March 10 – 13, 2017
Northsar Church
11901 Panama City Beach Parkway
Panama City Beach, FL 32407
[adrotate group="1"]