Hombre intenta escapar de la policía disfrazado de médico
CRESTVIEW, Fla. – Un hombre de Fort Walton Beach con una orden de arresto activa por vender opiáceos a menos de 1000 pies de una escuela fue localizado el lunes durante una parada de trafico por un oficial del Okaloosa County Sheriff's
Diputado de oficina en Crestview.
Después de ser arrestado en Stillwell Boulevard, James "Poppa" Jenkins Jr., de 71 años, se quejó de dolor en el pecho. Fue transportado al North Okaloosa Medical Center para su evaluación. Mientras esperaba que se completara el papeleo de alta, Jenkins salió de su habitación vestido como un médico, vestido con un uniforme azul y un estetoscopio, e intentó salir corriendo por las puertas de la sala de emergencias del hospital. Hizo caso omiso de detenerse a las órdenes del oficial, pero fue detenido rápidamente. El personal del hospital dice que los exfoliantes no les pertenecían.
Jenkins le dijo al personal que alguien le trajo el atuendo. El OCSO dice que la investigación continúa.
Junto con el cargo de narcóticos, Jenkins también fue arrestado por resistirse al arresto sin violencia y escape.
Man tries to escape police disguised as a doctor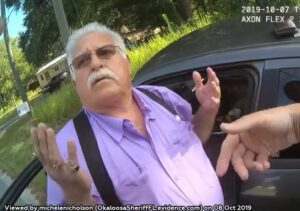 CRESTVIEW, Fla. – A Fort Walton Beach man with an active warrant for selling opiates within 1000 feet of a school was located Monday through a traffic stop by an Okaloosa County Sheriff's
Office Deputy in Crestview.
After being arrested on Stillwell Boulevard, 71-year old James "Poppa" Jenkins Jr. complained of chest pain. He was transported to North Okaloosa Medical Center for evaluation. While waiting for discharge paperwork to be completed, Jenkins emerged from his room dressed as a doctor, wearing blue scrubs and a stethoscope, and tried to run out of the hospital's emergency room doors. He ignored the deputy's commands to stop but was quickly apprehended. Hospital staff say the scrubs did not belong to them.
Jenkins told staff someone brought the garb to him. The OCSO says the investigation continues.
Along with the narcotics charge, Jenkins was also arrested for resisting arrest without violence and escape.
[adrotate group="1"]