Hombre arrestado después de persecución a alta velocidad, dos patrulleros de Florida heridos
Cortesía de NorthEscambia.com
Un hombre de Tennessee enfrenta múltiples cargos por delitos graves en relación con una persecución a alta velocidad el martes que envió a los oficiales de la Patrulla de Carreteras de Florida al hospital después de que sus patrullas chocaron entre sí.
John Thomas Puckett, de 46 años, de Dresden, Tennessee, fue acusado de robo de autos, huida y evasión de delitos graves, manejo imprudente deliberado y desenfrenado, daños a la propiedad de DUI (drogas), lesiones corporales graves de DUI (drogas) y agresión al proveedor de atención médica de emergencia. Fue ingresado en la cárcel del condado de Escambia sin fianza.
El hecho sucedió cerca del punto de control I-10 COVID-19 en la estación de pesaje en dirección este, justo dentro de Florida. Al menos uno de los patrulleros tuvo que ser sacado de su vehículo por los bomberos. Ambos patrulleros resultaron gravemente heridos y fueron transportados al Hospital Sacred Heart, donde ahora se encuentran en condición estable. Uno de los patrulleros fue dado de alta el martes y el segundo fue dejado durante la noche para observación.
La Oficina del Sheriff del Condado de Baldwin actuando como la agencia de aplicación de la Ley de Alabama notificó a FHP que perseguían una camioneta Chevrolet robada que estaba en la I-10 y que la persecución ingresaba a Florida. La persecución se acercó rápidamente al punto de control COVID-19 en la estación de pesaje I-10, justo dentro de Florida. Se permitió que el tráfico en el punto de control continuara sin detenerse disminuyendo al mínimo el riesgo para los civiles cerca de la persecución.
Cuando un sargento de FHP intentó unirse a la persecución, chocó con otro patrullero, dijo el teniente de FHP Robert Cannon.
La camioneta robada continuó hacia el este y chocó contra la parte trasera de un camión con remolque cerca del Florida Welcome Center (Centro de Bienvenida de Florida) en la I-10. Puckett intentó huir a pie, pero fue detenido sin incidentes. Fue trasladado al Hospital Sacred Heart para recibir tratamiento antes de ser dado de alta y encarcelado.
El conductor del camión tractor-remolque no resultó herido.
Cannon dijo que la política de persecución de FHP tiene en cuenta la "totalidad de las circunstancias," incluidas las condiciones de la carretera y el tráfico, así como el delito. Los patrulleros pueden perseguir delitos conocidos, conducción imprudente y conductores con problemas, pero están obligados a suspender la persecución si las condiciones superan los peligros.
Cannon dijo que el incidente del martes cumplió con los criterios de FHP para una persecución permitida.
Man arrested after high speed chase, two Florida troopers injured
Courtesy of NorthEscambia.com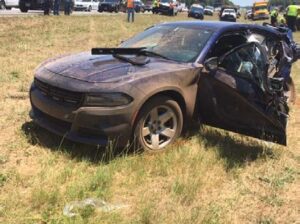 A Tennessee man is facing multiple felony charges in connection with a high speed chase Tuesday that sent to Florida Highway Patrol troopers to the hospital after their patrol cars crashed into each other.
John Thomas Puckett, 46, of Dresden, Tennessee, was charged with grand theft auto, felony fleeing and eluding, willful and wanton reckless driving, DUI property damage (drugs), DUI seriously bodily injury (drugs) and battery on an emergency medical care provider. He was booked into the Escambia County Jail without bond.
It happened near the I-10 COVID-19 checkpoint at the eastbound weigh station just inside Florida. At least one of the troopers had to be extricated from his vehicle by firefighters. Both troopers were seriously injured and transported to Sacred Heart Hospital where they are now listed in stable condition. One of the troopers was released Tuesday and the second was held overnight for observation.
FHP was notified by the Baldwin County Sheriff's Office as the Alabama Law Enforcement Agency that they were chasing a stolen Chevrolet pickup truck was on I-10 and the pursuit was entering Florida. The chase quickly approached the COVID-19 checkpoint at the I-10 weigh station just inside Florida. Traffic at the checkpoint was allowed to proceed without stopping to minimum the risk to civilians the pursuit approached.
As an FHP sergeant attempted to join the chase, he collided with another trooper, FHP Lt. Robert Cannon said.
The stolen pickup continued eastbound and collided into the rear of a tractor-trailer near the Florida Welcome Center on I-10. Puckett attempted to flee on foot but was taken into custody without incident. He was transported to Sacred Heart Hospital for treatment before being released and booked into jail.
The driver of the tractor-trailer truck was not reported to be injured.
Cannon said the FHP pursuit policy takes into account the "totality of the circumstances" including road and traffic conditions as well as the offense. Troopers can pursue for known felonies, reckless driving, and impaired drivers, but they are required to call off the pursuit if conditions outweigh the dangers.
Cannon said Tuesday's incident met the FHP criteria for an allowable pursuit.
[adrotate group="1"]