Gaetz defiende voto contra proyecto de ley de tráfico humano
Por Derek Cosson, publicado originalmente el 29 de diciembre para Pulse Gulf Coast




http://pulsegulfcoast.com/2017/12/gaetz-defends-vote-against-human-trafficking-bill



El congresista del noroeste de la Florida, Matt Gaetz, se dirigió el jueves a las redes sociales para defender su polémico voto en contra de un proyecto de ley incontrovertido destinado a combatir la trata de personas.
El proyecto de ley fue aprobado por unanimidad en el Senado de EE. UU. Y Gaetz fue el único miembro del congreso que votó en contra del proyecto de ley en la Cámara de Representantes, donde fue aprobado por 418 a 1 el 19 de diciembre.
Cris Dosev, un republicano que desafía a Gaetz para la reelección el próximo año, fue muy crítico con la votación de Gaetz el miércoles. "Que Matt Gaetz podría votar en contra de una ley para luchar contra la trata de personas y que el comercio de esclavos sexuales está más allá de toda comprensión," dijo Dosev en un comunicado. "¿Qué estaba pensando?"
"Trae a las fuerzas del orden público, los grupos contra el tráfico y la gente del transporte para que comparen notas y acumulen información y recursos," dijo Dosev, refiriéndose al proyecto de ley. "Esto es algo que las organizaciones militares y empresariales hacen todos los días para mejorar los resultados críticos. Es gestión básica 101. ¿Quién vota en contra de eso?
Gaetz primero defendió públicamente su voto a principios de esta semana en Twitter. "Voto en contra de todos los proyectos de ley que crean nuevas juntas / comisiones / agencias federales," escribió Gaetz, al parecer refiriéndose al establecimiento del proyecto de un comité asesor no remunerado para los funcionarios federales para desarrollar recomendaciones sobre la mejor manera de luchar contra la trata de personas.
El jueves por la noche, Gaetz amplió su oposición al proyecto de ley en una transmisión en vivo por Facebook.
"Creo que es muy importante que combatamos la trata de personas, pero no creo que la respuesta correcta sea una nueva agencia federal," dijo Gaetz.
A pesar de los comentarios de Gaetz, el proyecto de tres páginas, que se puede leer en línea en el sitio web del congreso, no crea ninguna agencia federal nueva, o ninguna burocracia más allá del comité asesor no pagado de 15 miembros. El proyecto de ley fue copatrocinado por los dos senadores de EE. UU. de la Florida: el demócrata Bill Nelson y el republicano Marco Rubio.
"En nuestra oficina, tenemos una regla, si hay una legislación que cree una nueva entidad gubernamental, una nueva agencia, una nueva junta, una nueva comisión, un nuevo consejo, inmediatamente analizaremos eso," explicó Gaetz. "Y a menos que exista una razón abrumadora y convincente para que nuestras agencias existentes en el gobierno federal no puedan manejar ese problema, yo voto en contra."
Los votantes del noroeste de la Florida no lo enviaron a Washington para "ir y crear más gobierno federal," dijo Gaetz.
"En todo caso, deberíamos abolir muchas de las agencias a nivel federal, como el Department of Education, como la EPA (Environmental Protection Agency, por sus siglas en inglés), y devolver ese poder a nuestros gobiernos estatales," agregó Gaetz.
La trata de personas sigue siendo una preocupación importante en el noroeste de la Florida, donde el corredor Interestatal 10 a través del país atraviesa la región. Florida ocupa el tercer lugar en los Estados Unidos en casos de trata de personas. Unos 550 casos de trata de personas fueron reportados en el estado en el 2016. El Florida Department of Children and Families y el Florida Department of Juvenile Justice organizaron el año pasado un grupo de trabajo regional de trata de personas que abarca los condados de Escambia, Santa Rosa, Okaloosa y Walton.
Gaetz defends vote against human trafficking bill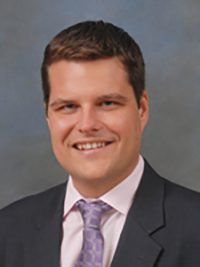 Northwest Florida congressman Matt Gaetz took to social media Thursday to defend his controversial vote against an uncontroversial bill intended to combat human trafficking.
The bill passed unanimously in the U.S. Senate, and Gaetz was the lone member of Congress to vote against the bill in the House, where it was approved 418 to 1 on Dec. 19.
Cris Dosev, a Republican challenging Gaetz for reelection next year, was sharply critical of Gaetz's vote on Wednesday. "That Matt Gaetz could vote against a law to fight human trafficking and the sex slave trade is beyond comprehension," Dosev said in a statement. "What was he thinking?"
"It brings law enforcement, anti- trafficking groups, and transportation people together to compare notes and pool information and resources," Dosev said, referring to the bill. "This is something military and business organizations do every day, to improve critical outcomes. It's basic management 101. Who votes against that?"
Gaetz first publicly defended his vote earlier this week on Twitter. "I vote against all bills that create new federal boards/commissions/agencies," Gaetz wrote, apparently referring to the bill's establishment of an unpaid advisory committee for federal officials to develop recommendations on how best to fight human trafficking.
On Thursday evening, Gaetz expanded on his opposition to the bill in a live Facebook broadcast.
"I think it's very important that we combat human trafficking, but I do not believe the correct answer is a new federal agency," Gaetz said.
Despite Gaetz's comments, the three-page bill — which can be read online on Congress' web site — doesn't create any new federal agency, or any bureaucracy at all beyond the unpaid 15-member advisory committee. The bill was cosponsored by both of Florida's two U.S. Senators: Democrat Bill Nelson and Republican Marco Rubio.
"In our office, we have a rule, if there's legislation that creates a new government entity, a new agency, a new board, a new commission, a new council, we immediately scrutinize that," Gaetz explained. "And unless there is an overwhelming, compelling reason that our existing agencies in the federal government can't handle that problem, I vote no."
Northwest Florida voters didn't send him to Washington to "go and create more federal government," Gaetz said.
"If anything we should be abolishing a lot of the agencies at the federal level, like the Department of Education, like the EPA, and sending that power back to our state governments," Gaetz added.
Human trafficking remains a major concern in Northwest Florida, where the cross-country Interstate 10 corridor runs through the region. Florida ranks third in the United States for human trafficking cases. Some 550 human trafficking cases were reported in the state in 2016. A regional human trafficking task force encompassing Escambia, Santa Rosa, Okaloosa, and Walton counties was organized last year by Florida Department of Children and Families and the Florida Department of Juvenile Justice.