Nueva Comunidad Empresarial en el Distrito Histórico de Pensacola
Pensacola, Fla.—Cowork Annex, una comunidad progresiva de compartimiento ubicada en el 13 Palafox Place en el distrito histórico de Palafox, anunció su inauguración oficial en noviembre. La instalación está ubicada en el segundo piso del edificio Brent Annex dentro de One Palafox Place.
Cowork Annex presenta 10,000 pies cuadrados de conceptos de diseño de vanguardia y tecnología de vanguardia, incluida una conexión a Internet de 20 gigabytes, entre las conexiones de Internet de oficina más rápidas disponibles. Cowork Annex también cuenta con salas de conferencias especializadas, una cocina, una sala de eventos y pronto contará con un espacio de entrenamiento privado, todo situado sobre una nueva cafetería.
Cowork Annex ofrece una variedad de niveles de precios de membresía según los requisitos de uso, espacio y escritorio.
New Business Community in Historic Pensacola District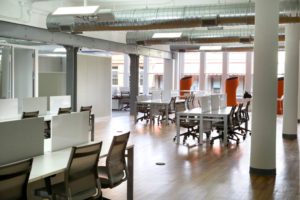 Pensacola, Fla.—Cowork Annex, a progressive coworking community located at 13 Palafox Place in the Historic Palafox District, announced its official opening in November. The facility is located on the second floor of the Brent Annex building within One Palafox Place.
Cowork Annex features 10,000-square-feet of state-of-the-art design concepts and cutting-edge technology — including a 20-gigabyte Internet connection, among the fastest office Internet connection available. Cowork Annex also boasts specialized conference rooms, a kitchen, an event room and will soon feature a private workout space all situated above a new coffee shop.
Cowork Annex offers a variety of membership pricing levels based on usage, space and desk requirements.