FDOT suspende la construcción a lo largo de las rutas de vacaciones de primavera
CHIPLEY, Fla.—Para facilitar el tráfico de miles de viajeros que se reúnen en el estado de Florida para las vacaciones de primavera (Spring break), la oficina del Distrito de Florida (FDOT) del Distrito Tres suspende los proyectos de construcción de carreteras en las principales carreteras a lo largo de las rutas de primavera en el noroeste de Florida. No habrá trabajo en las carreteras estatales que requieran el cierre de carriles desde el viernes 9 de marzo hasta el domingo 25 de marzo. Todas las carreteras principales estarán abiertas al tráfico normal.
Aunque no se programan cierres de construcción durante las vacaciones de primavera, las zonas de trabajo existentes seguirán vigentes. Se recuerda a los automovilistas que tengan precaución ya que los trabajadores de la construcción, los límites de velocidad reducidos, el equipo y las configuraciones temporales de tráfico pueden permanecer en su lugar.
FDOT está alentando a los conductores a permitir un tiempo de viaje adicional y a tener precaución adicional en las zonas de trabajo existentes a lo largo de las carreteras estatales. Se insta a los conductores a asegurarse de que se abrochen el cinturón de seguridad, junto con sus pasajeros. FDOT y otras agencias de seguridad también les piden a los conductores que obedezcan los límites de velocidad, descansen adecuadamente antes de viajar, eviten las distracciones y nunca tomen y conduzcan.
También se insta a los conductores a estar preparados para cierres de autopistas no programados debido a accidentes, vehículos deshabilitados u otros eventos. Los automovilistas deben estar alertas a las cambiantes condiciones climáticas mientras viajan.
FDOT Suspends Construction along Spring Break Routes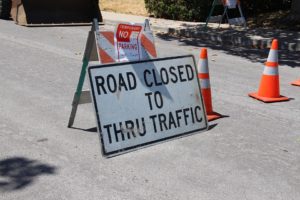 CHIPLEY, Fla.—To facilitate traffic for the thousands of travelers who converge on the state of Florida for spring break, the Florida Department of Transportation (FDOT) District Three office is suspending highway construction projects on major roadways along spring break routes across Northwest Florida. There will be no work on state roads requiring lane closures from Friday, March 9 through Sunday, March 25. All major roads w…ill be open to normal traffic.
Although no construction closures are scheduled over spring break, existing work zones will remain in effect. Motorists are reminded to use caution as construction workers, reduced speed limits, equipment and temporary traffic configurations may remain in place.
FDOT is encouraging drivers to allow extra travel time and to use extra caution in existing work zones along state highways. Drivers are urged to make sure they buckle up, along with their passengers. FDOT and other safety agencies also ask drivers to obey speed limits, get adequate rest before traveling, avoid distractions and never drink and drive.
Drivers also are urged to be prepared for unscheduled highway closures due to accidents, disabled vehicles or other events. Motorists should be alert to changing weather conditions while traveling.
[adrotate group="1"]