Ever'man Construirá un Segundo Supermercado y un Café
PENSACOLA, Fla.––El Ever'man Cooperative ha anunciado planes para una segunda ubicación en 1000 East 9 Mile Road en Pensacola. La nueva instalación incluirá un nuevo supermercado, cafetería y centro educativo.
El presidente de la Junta, Dave DeBlander, explica más: "Nuestros miembros han estado pidiendo otra ubicación en el lado norte de la ciudad durante varios años. Creemos en el poder de la comunidad, la energía colectiva de las personas que se unen para ser más conscientes del medio ambiente y vivir vidas más sanas. Ever'man se enorgullece de ser un ciudadano cooperativo honorable y un fuerte socio comunitario."
Ever'man ha sido una especialidad local durante más de 40 años, ampliando gradualmente sus ofertas para incluir una gran variedad de opciones saludables, incluyendo panes artesanales, carne sostenible, productos lácteos y mariscos, vinos orgánicos y cervezas artesanales y una línea completa de vitaminas, remedios herbales y productos de cuidado personal.
A lo largo de los años, la cooperativa de alimentos local agregó productos y servicios para atender a una clientela diversa y en rápido crecimiento. Hoy en día, la cooperativa de comida local ofrece una serie de clases y eventos gratuitos, que se llevan a cabo en su Centro Educativo, y una cafetería de servicio completo donde los miembros y los clientes pueden disfrutar de una variedad de comida sana y comida a la orden y bebidas y el único bar jugo de café orgánico de Pensacola. Ever'man regularmente se asocia con empresas y organizaciones locales para llevar a cabo demostraciones en la tienda, aumentar la conciencia sobre la vida verde, celebrar eventos semanales de redes de negocios y promover el bien mayor.
Ever'man to Build Second Grocery & Cafe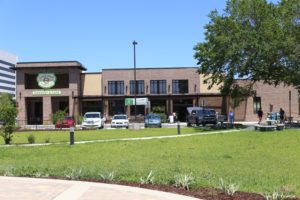 PENSACOLA, Fla. – Ever'man Cooperative has announced plans for a second location at 1000 East 9 Mile Road in Pensacola. The new facility will include a new grocery store, cafe and educational center.
Board President Dave DeBlander further explains, "Our members have been asking for another location on the north side of town for a number of years. We believe in the power of community, the collective energy of individuals coming together to be more environmentally conscious and to live healthier lives. Ever'man is proud to be an honorable cooperative citizen and strong community partner."
Ever'man has been a local staple for more than 40 years, gradually expanding its offerings to include a wealth of wholesome options, including artisanal breads, sustainable meat, dairy and seafood, organic wines and craft beers, and a full line of vitamins, herbal remedies and personal care products.
Over the years, the local food co-op added products and services to cater to a diverse and rapidly growing clientele. Today the local food co-op offers a host of complimentary classes and events, held at its Educational Center, and a full-service cafe where members and customers can enjoy a variety of healthy grab-and-go and made-to-order foods and beverages and Pensacola's only organic juice cafe bar. Ever'man regularly partners with local businesses and organizations to conduct in-store demonstrations, increase awareness about green living, hold weekly business networking events and promote the greater good.