Un autor de Pensacola habla de una caminata de 1000 millas a lo largo de la frontera
Por C.S. Satterwhite
PENSACOLA, Fla.—Mark Hainds, un agricultor de Alabama bastante humilde, hizo lo que ningún otro humano conocido ha hecho jamás: recorrió toda la frontera de México y los Estados Unidos. Él documentó la porción de Texas de su viaje. Hainds habló con un público amigable sobre su paseo y su libro, "Border Walk," en la librería independiente Pensacola Open Books.
Hainds, que trabajó en la Universidad de Alabama durante veinte años, dijo que la idea de su paseo por el Río Grande vino de una crisis de la mitad de la vida. Dijo que estaba cansado de su trabajo y estaba intrigado por las descripciones de las tierras fronterizas por el autor Cormack McCarthy.
Hainds dijo que rápidamente aprendió lo erróneo [la mayoría de las percepciones estadounidenses] sobre la frontera, especialmente después de ver varias comunidades fronterizas de cerca.
"La gente que vive allí se ve dramáticamente impactada por la forma en que militarizamos la frontera y cómo esto afecta su vida cotidiana," dijo.
Él describe los puntos de control recientes como la destrucción de varias comunidades centenarias en ambos lados del Río Grande. Hainds agregó que, al igual que gran parte de la América rural, muchas personas en la frontera sienten que sus perspectivas sobre temas fronterizos a menudo son ignoradas.
Caminar por la larga y solitaria caminata por las tierras fronterizas le dio a Hainds tiempo para reflexionar sobre las vidas de aquellos que cruzan esta frontera. No lo están haciendo para escribir un libro sobre su experiencia, sino para sobrevivir.
Hainds habló de las condiciones extremadamente difíciles que enfrentan muchos cuando cruzan la frontera, incluyendo ciertas extensiones de tierra sin comida ni agua por hasta cincuenta millas. Durante las últimas 32 millas de su caminata, la gente descubrió 27 cuerpos de aquellos que intentaron cruzar la frontera de los Estados Unidos sin éxito.
El autor habló sobre varios temas, incluida la dificultad que enfrentan los inmigrantes, dificultades que empujan a muchos a situaciones muy precarias que cruzan la frontera.
"Mucha gente piensa que si puedo llegar a Estados Unidos, lo tengo hecho," dijo Hainds. "No se dan cuenta de que son más de ochenta kilómetros del camino más duro que hayan hecho jamás."
Hainds, que se describió a sí mismo como uno de los mejores caminantes, especuló que sus propias probabilidades de supervivencia serían del cincuenta por ciento en el mejor de los casos.
Su consejo para cualquiera que intente este viaje fue simple: "Debes estar preparado."
Antes de cerrar su charla, Hainds también quería transmitir algo a los mexicanos de todo el mundo. Su mensaje: "El gobierno no representa a la mayoría de nosotros."
El libro de Mark Hainds está disponible en Pensacola en Open Books, en Amazon.com y en su stand en el Farmer's Market de Palafox en el centro de Pensacola. Aunque habla español, "Border Walk" actualmente solo está disponible en inglés. Espera tenerlo traducido al español pronto.
Pensacola author speaks about 1000-mile walk along the border
By C.S. Satterwhite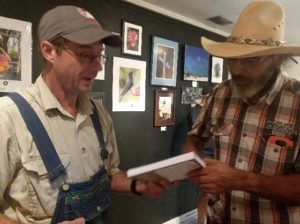 PENSACOLA, Fla.—A fairly humble Alabama farmer, Mark Hainds did what no other known human has ever done: he walked the entire border of Mexico and the United States. He documented the Texas portion of his journey. Hainds spoke to a friendly audience about his walk and his book, "Border Walk," at the Pensacola independent bookstore Open Books.
Hainds, who worked at University of Alabama for twenty years, said the idea for his walk along the Rio Grande came from a mid-life crisis. He said he was tired of his work and was intrigued by descriptions of the borderlands by author Cormack McCarthy.
Hainds said he quickly learned how wrong [most American] misperceptions are about the border, especially after seeing several border communities up close.
"The people who live there are dramatically impacted by how we militarize the border and how this affects their day-to-day life," he said.
He describes recent check points as destroying several centuries-old communities on both sides of the Rio Grande. Hainds added that like much of rural America, many people on the border feel that their perspectives on border issues are often ignored.
Walking the long and lonely walk through the borderlands gave Hainds time to reflect on the lives of those who cross this border. They aren't doing it to write a book about their experience, but for survival.
Hainds spoke of the extremely difficult conditions many face when crossing the border, including certain stretches of land with no food or water for as much as fifty miles. During the last 32 miles of his walk, people discovered 27 bodies of those who unsuccessfully tried to cross the U.S. border.
The author spoke about several subjects including the difficulty immigrants endure, difficulties that push many into very precarious situations crossing the border.
"A lot of people are thinking that if I can make it into America, I've got it made," said Hainds. "They don't realize that it's fifty miles of the hardest walk they've ever done."
Hainds, who described himself as among the top walkers, speculated his own odds of survival would be fifty percent at best.
His advice for anyone else attempting this trek was simple: "You better be prepared."
Before closing his talk, Hainds also wanted to convey something to the Mexican people everywhere. His message: "The government doesn't represent the majority of us."
Mark Hainds' book is available in Pensacola at Open Books, on Amazon.com and at his stand at the Palafox Farmer's Market in downtown Pensacola. Although he speaks Spanish, "Border Walk" is currently only available in English. He hopes to have it translated into Spanish soon.
[adrotate group="1"]