El senador electo Doug Jones agradeció a la comunidad latina durante su discurso electoral
MOBILE, Ala.—El 12 de diciembre, Doug Jones habló con sus electores para celebrar su victoria.
"Siempre he creído que la gente de Alabama tiene más en común que lo que nos divide. Hemos demostrado no solo en todo el estado de Alabama, sino que hemos demostrado al país la forma en que podemos unificarnos," dijo Jones, luego procedió a agradecer a las personas que lo ayudaron a ganar las elecciones.
Fue entonces cuando Jones agradeció a la comunidad latina, un mensaje que no pasó desapercibido para los líderes de la comunidad latina.
En Mobile, esto alentó a Frank Barragan, quien es organizador comunitario de Coastal Coalition for Immigrant Justice.
"Mucha gente estaba preocupada porque Jones no nos tenía en su plataforma," dijo Barragán. "Sus 'gracias' me dice que sus puertas estarán abiertas. Sinceramente, creo que será accesible."
Barragán trabajó activamente en las elecciones, recordándoles a las personas que debían votar e invitándolos a participar en los eventos, colaborando con los votantes de las comunidades del sur de Asia y los afroamericanos, que dijo que eran muy activos. Dijo que los representantes dentro de estas comunidades hablaron en mítines en todo el estado, y Jones se comunicó con ellos.
Barragán dice que espera que el senador entrante ayude a crear una Alabama unificada que escuche las necesidades y los deseos de todas las comunidades en el estado.
"Ahora tenemos la oportunidad de presentarnos correctamente y representar a nuestra comunidad, nuestras necesidades y deseos, a alguien que nos escuche," agregó Barragan. "Es importante para los latinos, filipinos y otros," dijo.
Esas necesidades y deseos, dice, incluyen el fin de la separación de familias, las detenciones y las deportaciones de inmigrantes indocumentados.
Jones ha expresado públicamente su apoyo a los beneficiarios de DACA (Deferred Action for Childhood Arrivals) citando sus contribuciones al servicio militar. Barragán quiere asegurarse de que Jones y otros legisladores sean conscientes de cómo los inmigrantes protegidos bajo el programa DACA también están aprovechando las oportunidades de educación, empleo y emprendimiento.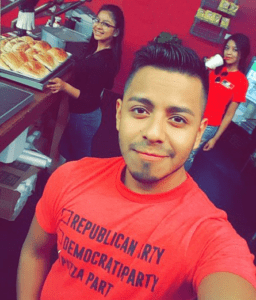 "¡Tengo esperanza otra vez!" dijo David Comparan, un beneficiario de DACA y propietario de David's Pizza en Ashford cerca de Dothan, Ala. "Quería que ganara no solo porque apoya a DACA, sino por todas las cosas que quiere hacer por los residentes de Alabama, como hacer que la atención médica sea asequible, la universidad sea asequible y el salario mínimo sea mayor."
Comparan dijo que siente que Jones comprende sus dificultades como receptor de DACA que vive en Alabama, especialmente después de que el presidente puso fin al programa DACA.
"Estoy seguro de que el senador Jones hará todo lo posible para protegernos como DREAMers y a nuestros padres," agregó Comparan. "Como propietario de un negocio, quiero hacer más cosas y contribuir más a mi estado. Una vez que mi DACA caduque no sabía lo que iba a hacer, pero ahora tengo esperanza y fe de que algo bueno está por venir."
Barragán tiene la esperanza de que Jones también detenga a la policía local para que deje de actuar como agentes de ICE y comience a trabajar en un camino hacia la ciudadanía para los inmigrantes indocumentados.
"La gente espera 15 o 17 años para convertirse en ciudadanos. Estamos aquí y no vamos a ningún lado," dijo Barragán.
En una escala mayor, los partidarios de Jones esperan que su elección genere el ímpetu necesario para las elecciones de representantes estatales de 2018.
"Es solo el comienzo," dijo Barragán. "Ya estamos recibiendo llamadas de Mississippi para discutir qué hicimos para obtener esta victoria."
Senator-Elect Doug Jones thanks Latino community during election speech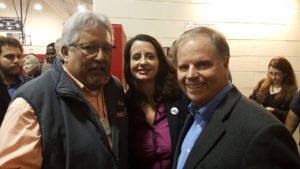 MOBILE, Ala.—On Dec. 12, Doug Jones spoke to his constituents celebrating his election victory.
"I have always believed that the people of Alabama have more in common than what divide us. We have shown not just around the state of Alabama, but we have shown the country the way that we can be unified," Jones said, then he proceeded to thank the people who helped him win the election.
That's when Jones thanked the Latino community, a message that didn't go unnoticed by Latino community movers and shakers.
In Mobile, community organizer for the Coastal Coalition for Immigrant Justice, Frank Barragan was encouraged.
"A lot of people were concerned because Jones didn't have us on his platform," Barragan said. "His 'thank you' tells me that his doors will be open. I honestly believe he will be reachable."
Barragan actively worked in the election, reminding people to vote and inviting them to canvassing events, collaborating with voters in the South Asian and African American communities who he said were very active. He said that representatives within these communities spoke at rallies throughout the state, and Jones communicated with them.
Barragan says he hopes that the incoming senator will help create a unified Alabama that will listen to the needs and desires of all communities in the state.
"We now have an opportunity to introduce ourselves correctly and represent our community, our needs and desires to someone who will listen to us," Barragan added. "It is important to Latinos, Filipinos and others," he said.
Those needs and desires, he says, include an end to separating families, detentions and deportations of undocumented immigrants.
Jones has publicly expressed support for DACA (Deferred Action for Childhood Arrivals) recipients citing their contributions to military service. Barragan wants to make sure Jones and other legislators are aware of how immigrants protected under the DACA program are also taking advantage of opportunities for education, employment and entrepreneurship.
"I have hope again!" said David Comparan, a DACA recipient and owner of David's Pizza in Ashford near Dothan, Ala. "I wanted him to win not just because he supports DACA, but because of all the things he wants to do for Alabamians such as make healthcare affordable, college affordable, and minimum wage higher."
Comparan said he feels that Jones understands his struggles as a DACA recipient living in Alabama, especially after the president put an end to the DACA program.
"I'm sure senator Jones will do everything he can to protect us as DREAMers and our parents," Comparan added. "As a business owner I want to do more things and contribute more to my state. Once my DACA expires I didn't know what I was going to do, but now I have hope and faith that something good is coming for us."
Barragan is hopeful that Jones will also stop local police from acting as ICE agents and start working on a pathway to citizenship for undocumented immigrants.
"People wait 15, 17 years to become citizens. We're here and we're not going anywhere," Barragan said.
On a larger scale, Jones' supporters hope his election will set the momentum needed for the 2018 elections for State Representatives.
"It's only the beginning," Barragan said. "We're already getting calls from Mississippi to discuss what we did to get this win."