Celebraciones navideñas de diciembre en la costa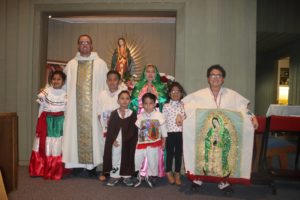 GULF COAST—Es la temporada de vacaciones y no hay escasez de celebración en la Costa del Golfo. Mientras que los desfiles de Navidad anuales iluminan las calles de la mayoría de nuestras comunidades locales este mes, las fiestas de Navidad y las observaciones religiosas también nos llevan al nuevo año.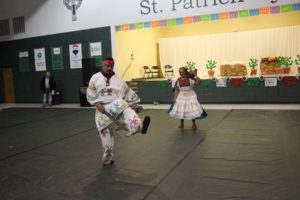 Entre las celebraciones religiosas se encontraba el Día de la Virgen de Guadalupe y el 9 y 12 de diciembre. La popular fiesta católica se celebró en la Iglesia de San Patricio en Robertsdale y la Iglesia de San Juan en Pensacola con gran reverencia. Los niños usaron trajes tradicionales y recibieron una bendición, mientras que otros asistieron a la oración.
El Día de la Virgen de Guadalupe celebra la creencia de que un hombre llamado Juan Diego se encontró con la Virgen María en la Ciudad de México el 9 y 12 de diciembre de 1531. La Virgen María es la santa patrona de México. Se dice que millones de indígenas en México se convirtieron al catolicismo después de esta aparición.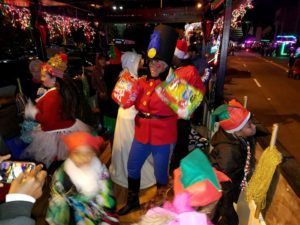 Una festividad navideña mucho más nueva incluyó al único Mardi Gras Krewe latino en el desfile navideño de Pensacola el 9 de diciembre.El  Krewe de Karnaval presentó su carroza de desfile decorada con colores y luces de la temporada para difundir la alegría y el espíritu navideño.
December holiday celebrations on the Coast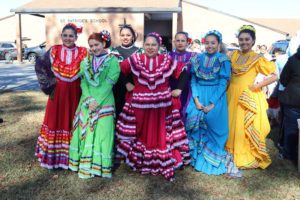 GULF COAST—It is the holiday season and there is no shortage of celebration in the Gulf Coast. While annual Christmas parades lit up the streets of most of our local communities this month, Christmas parties and religious observations also lead us to the new year.
Among the religious celebrations was the Day of the Virgin of Guadalupe and December 9 and 12.  The popular Catholic feast was celebrated at St. Patrick's Church in Robertsdale and St. John's Church in Pensacola with great reverence. Children wore traditional costumes and received a blessing while others attended for prayer.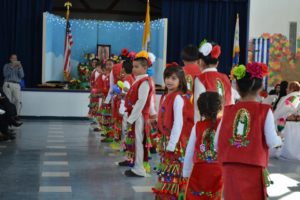 The Day of the Virgin of Guadalupe celebrates the belief that a man named Juan Diego encountered the Virgin Mary in Mexico City on December 9 and 12 in 1531. The Virgin Mary is Mexico's patron saint. It is said that millions of indigenous people in Mexico were converted to Catholicism following this apparition.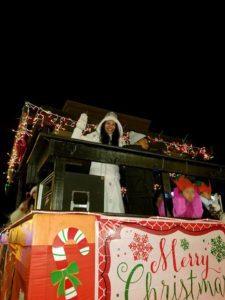 A much newer Christmas festivity included the only Latino Mardi Gras Krewe in the Pensacola Christmas Parade on December 9. Krewe de Karnaval debuted their parade float decorated in colors and lights of the season to spread cheer and the holiday spirit.
[adrotate group="1"]