El restaurante mexicano El Paso ordenado a pagar $654,366 en salarios atrasados
NEW ORLEANS, LA – El  U.S. Department of Labor Wage and Hour Division (WHD, por sus siglas en inglés) informa que se le ordenó a El Paso Mexican Grill pagar $654,366 en salarios atrasados a 567 empleados en 23 ubicaciones en Louisiana y Florida.
Los investigadores concluyeron que el empleador no cumplió con los requisitos de salario mínimo cuando dedujeron los costos de los uniformes del salario de los trabajadores. La cadena de restaurantes no les pagó a los empleados por todas las horas que trabajaron. El informe indica además que algunos empleados de la cocina recibían salarios fijos sin importar la cantidad de horas que trabajaban. Esta práctica resultó en el no pago de horas extras cuando esos empleados trabajaron más de 40 horas en una semana. El WHD dijo que El Paso Mexican Grill también violó los requisitos de horas extras cuando pagaba a los empleados con propinas por hora y media de sus salarios directos en efectivo por sus horas extras en lugar de basar sus tarifas en el salario mínimo completo de $7.25 por hora. También se encontraron fallas en mantener registros precisos de las horas trabajadas por el personal asalariado de la cocina y el registro impreciso de las ganancias del personal.
El Paso Mexican restaurant ordered to pay $654,366 in back wages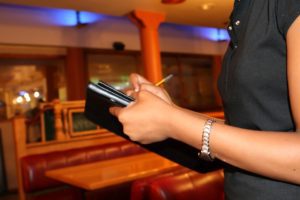 NEW ORLEANS, LA – The U.S. Department of Labor Wage and Hour Division (WHD) reports El Paso Mexican Grill has been ordered to pay $654,366 in back wages to 567 employees at 23 locations in Louisiana and Florida.
Investigators concluded the employer did not follow minimum wage requirements when they deducted costs for uniforms from workers' pay. The restaurant chain failed to pay employees for all of the hours that they worked. The report further indicates that some kitchen staff were paid flat salaries without regard to the amount of hours that they worked. This practice resulted in non-payment of overtime when those employees worked more than 40 hours in a week. The WHD said El Paso Mexican Grill also violated overtime requirements when it paid tipped employees time-and-one-half of their direct cash wages for their overtime hours instead of basing their rates on the full minimum wage of $7.25 per hour. Failures to keep accurate records of hours worked by salaried kitchen staff and inaccurate recording of wait staff's earnings were also found.