El estadio Blue Wahoos fue nombrado el mejor estadio de béisbol doble A de Estados Unidos
PENSACOLA, Fla. – El estadio Blue Wahoos de Pensacola fue nombrado campeón del 2020 Ballpark Digest "Best of the Ballparks" en el nivel de Doble A el miércoles por la noche, obteniendo el título a través de una votación nacional de aficionados que atrajo más de 80,000 votos. La competencia de cinco asaltos contó con los 30 estadios de la Liga Menor Doble-A en un grupo de eliminación simple decidido por los fanáticos. Pensacola ganó el título de Best Ballpark al derrotar a "Hodgetown", el estadio de béisbol de los Amarillo Sod Poodles, afiliado de los Padres de San Diego y el campeón de Best of the Ballparks de 2019, en la ronda del campeonato.
"Estamos muy emocionados de devolver el título de Mejor estadio de béisbol a Pensacola", dijo el presidente del equipo, Jonathan Griffith. "Nuestra misión como organización es mejorar la calidad de vida en nuestra comunidad, por lo que es un honor para nosotros brindar este reconocimiento a nuestra ciudad. Si bien estamos orgullosos de tener un gran estadio, estamos aún más orgullosos de tener admiradores tan increíbles que votaron por nosotros por el título."
El camino de Pensacola hacia el título incluyó una victoria sobre el estadio Bowie's Prince George en la primera ronda, victorias contra el Biloxi's MGM Park y el estadio Montgomery's Riverwalk, ambos oponentes de la Liga del Sur, en la segunda y tercera ronda, una victoria muy reñida contra el Corpu's Christi's Whataburger Field en las semifinales, y una rotunda victoria del 54% -46% en el campeonato contra Hodgetown.
Construido en 2012, el estadio Blue Wahoos se ha establecido como una de las principales instalaciones de la nación en la última década, ganando tres premios de la Liga del Sur del Parque del Año y ganando anteriormente el concurso Ballpark Digest Best of the Ballparks en 2016. Un estadio comunitario de usos múltiples, el estadio alberga más de 200 eventos cada año, incluidos los juegos de Blue Wahoos y los juegos de fútbol de la Universidad de West Florida. 
Blue Wahoos Stadium Named America's Best Double-A Ballpark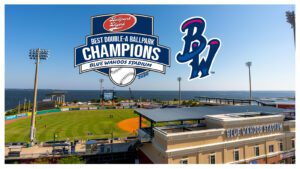 PENSACOLA, Fla. – Pensacola's Blue Wahoos Stadium was named the 2020 Ballpark Digest "Best of the Ballparks" champion at the Double-A level on Wednesday evening, earning the title through a national fan vote that attracted over 80,000 votes. The five-round competition featured all 30 Double-A Minor League Stadiums in a single-elimination bracket decided by fans. Pensacola won the title of Best Ballpark by beating "Hodgetown," the ballpark of the Amarillo Sod Poodles, an affiliate of the San Diego Padres and the 2019 Best of the Ballparks champion, in the championship round.
"We're very excited to bring the title of Best Ballpark back to Pensacola," team president Jonathan Griffith said. "Our mission as an organization is to improve the quality of life in our community, so it's an honor for us to bring this recognition to our city. While we're proud to have a great ballpark, we're even more proud to have such incredible fans who voted us to the title."
Pensacola's road to the title included a win over Bowie's Prince George Stadium in the opening round, victories against Biloxi's MGM Park and Montgomery's Riverwalk Stadium, both Southern League opponents, in the second and third rounds, a tightly contest win against Corpus Christi's Whataburger Field in the semi-finals, and a resounding 54%-46% win in the championship against Hodgetown.
Built in 2012, Blue Wahoos Stadium has established itself as one of the nation's premier facilities over the past decade, winning three Southern League Ballpark of the Year Awards and previously winning the Ballpark Digest Best of the Ballparks contest in 2016. A multi-use community ballpark, the stadium hosts over 200 events each year including Blue Wahoos games and University of West Florida football games.  
[adrotate group="1"]