El equipo de buceo de OCSO recupera un cuerpo en el Destin East Pass
DESTIN, Fla. – La Unidad de Infantería de Marina y el Equipo de Buceo de la Oficina del Sheriff del Condado de Okaloosa recuperaron un cuerpo poco antes de las diez de la mañana durante la búsqueda de un buceador que desapareció en Destin's East Pass el domingo por la noche.
El esfuerzo del Equipo de Buceo de la OCSO para encontrar al hombre de 28 años el domingo tuvo que ser cancelado debido a las malas condiciones.
Regresaron esta mañana y encontraron un individuo bajo el agua a unos 50 pies al oeste del muelle este.
El turista, originario de la India, había estado buceando con un grupo de amigos cuando notaron que él faltaba durante un recuento de personas alrededor de las 6:30 p.m.
La Oficina del Examinador Médico del Distrito Uno se encargará de hacer una identificación positiva.
OCSO Dive team recovers body in Destin East Pass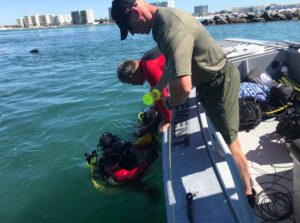 DESTIN, Fla. – The Okaloosa County Sheriff's Office Marine Unit and Dive Team recovered a body shortly before ten this morning during a search for a snorkeler who went missing in Destin's East Pass Sunday evening.
Effort by the OCSO Dive Team to find the 28-year old man Sunday had to be called off due to poor conditions.
They returned this morning and found an individual underwater about 50 feet west of the east jetty.
The tourist, originally from India, had been snorkeling with a group of friends when they noticed he was missing during a head count around 6:30 p.m.
The District One Medical Examiner's Office will handle the task of making a positive identification.
[adrotate group="1"]