El COVID-19 toma la vida de un querido médico latino en Fort Walton Beach
FORT WALTON BEACH, Fla. – La vida de un médico latino popular fue robada por el coronavirus. Dr. Eddie Negrón falleció el viernes 24 de julio después de contraer COVID-19 a principios de julio. Tenía 69 años.
La familia de Negrón le dijo a Channel 3 News que llevaba meses usando máscaras y guantes y siguiendo todos los protocolos, por lo que su enfermedad fue una sorpresa.
Los pacientes y amigos de la comunidad recuerdan al querido médico como un hombre atento y un médico brillante que se preocupaba por sus pacientes como si fuera su familia. Sirvió a la comunidad de Fort Walton Beach como médico personal de medicina interna durante casi 30 años.
"Era solo un niño de Puerto Rico. Vino aquí de niño sin saber inglés," dijo su hija, Marisa Hutchinson, a Channel 3 News. "Creció lustrando zapatos en las esquinas del Bronx en Nueva York."
Quizás fue su humilde educación lo que lo ayudó a conectarse tan bien con los demás.
"Recordaría todo sobre sus pacientes: los nombres de sus perros, cuántos hijos tenían, dónde iban sus nietos a la universidad," agregó Hutchinson.
Channel 3 News informa una efusión abrumadora de amor de los pacientes del Dr. Negrón, pero sus pacientes también eran sus amigos y sus amigos eran como la familia.
"Siempre recordaré su personalidad de 'bienvenido a casa'," dijo el paciente y amiga Geraldyn Martínez, de Fort Walton Beach. "Siempre con una sonrisa sincera, siempre con divertidas palabras de sabiduría. Siempre tuvo tiempo para hablar de cualquier cosa."
Martínez agregó: "La familia era muy importante para él. Era puertorriqueño y estaba orgulloso de apoyar nuestras actividades y restaurantes en el área. Seguro que muchos lo extrañarán."
Este sentimiento es compartido por José García, presidente de Boricuas Ausentes en Fort Walton Beach.
"He perdido a un compatriota de Puerto Rico, un gran médico y un gran defensor de la comunidad hispana como muy pocos," dijo García.
García agregó que a menudo le sorprendía saber cuántas personas en la comunidad lo conocían y siempre hablaban con cariño de él. García dijo que Negrón le recordaba al tipo de médico que hacía visitas domiciliarias porque se preocupaba por el bienestar de sus pacientes.
"Eddie también fue un muy buen amigo, patrocinador y fanático del evento 'Latin Salsa Festival.' Este fue un evento que nunca se perdió," dijo García. "Se llevó a cabo en Fort Walton Beach de 2008 a 2018. ¡Cada día del festival se podía encontrar su barco atracado en el muelle del parque de aterrizaje de FWB y adornado con la bandera de Puerto Rico!"
García también expresó sus condolencias a toda la familia.
"En nombre de toda la comunidad hispana y el público en general, acepte nuestro sincero 'gracias' por compartir su vida con todos nosotros," agregó García. "Descanse en paz, Dr. Eddie Negrón."
La familia le dijo a Channel 3 News que la Celebración de la Vida será planeada para honrar a Negrón en una fecha posterior.
COVID-19 claims life of beloved Latino doctor in Fort Walton Beach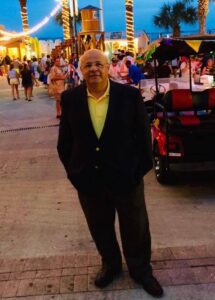 FORT WALTON BEACH, Fla. — The life of a popular Latino medical doctor has been taken by coronavirus. Dr. Eddie Negrón passed away on Friday, July 24 after contracting COVID-19 in early July. He was 69 years old.
Negron's family told Channel 3 News he had been wearing masks and gloves and following all the protocols for months, so his illness came as a surprise.
The beloved physician is remembered by patients and friends in the community as a caring man and a brilliant doctor that cared for his patients like family. He served the Fort Walton Beach community as a personal internal medicine physician for nearly 30 years.
"He was just a little boy from Puerto Rico. He came here as a child not even knowing English," daughter, Marisa Hutchinson told Channel 3 News. "He grew up shining shoes on the street corners of the Bronx in New York."
Perhaps it was his humble upbringing that helped him connect so well with others.
"He would remember everything about his patients – their dogs' names, how many kids they had, where their grandchildren went to college," Hutchinson added.
Channel 3 News reports an overwhelming outpouring of love from Dr. Negrón's patients, but his patients were also his friends and friends were like family.
"I'll Always remember his 'welcome home' personality," said patient and friend Geraldyn Martinez of Fort Walton Beach. "Always with a sincere smile, always with funny words of wisdom. Always had time to talk about anything."
Martinez added, "Family was so important to him. He was Puerto Rican and he was proud to support our activities and restaurants in the area. He will be missed by many for sure."
This sentiment is shared by Jose Garcia, president of Boricuas Ausentes in Fort Walton Beach.
"I have lost a countryman from Puerto Rico, a great medical doctor and an equally great supporter of the Hispanic community like very few," Garcia said.
Garcia adds that he was often surprised to learn how many people in the community knew him and always spoke fondly of him. Garcia said Negrón reminded him of the kind of doctor that did home visits because he cared for the well-being of his patients.
"Eddie was also a very good friend, sponsor and fan of the 'Latin Salsa Festival' event. This was one event that he never missed," Garcia said. "It was held in Fort Walton Beach from 2008 to 2018. Every festival day his boat could be found docked at the FWB landing park pier and decked out with the Puerto Rican flag!"
Garcia also expressed condolences to the entire family.
"On behalf of the entire Hispanic community and general public, please accept our heartfelt 'thank you' for sharing his life with all of us," Garcia added. "Rest in peace, Dr. Eddie Negrón."
The family told Channel 3 News the Celebration of Life will be planned to honor Negrón at a later date
[adrotate group="1"]