El centro de salud sin fines de lucro del área de Pensacola Bay abre nuevas puertas en la escuela histórica de Brownsville después de un proyecto de renovación de $ 9 millones
PENSACOLA, Fla.—Escambia Community Clinics, el único centro de salud calificado federalmente del área de Pensacola Bay, dio a conocer oficialmente su cambio de marca como Community Health Northwest Florida, junto con la inauguración oficial de su nuevo lugar principal de atención al paciente en 2315 W. Jackson Street en la comunidad de Pensacola en Brownsville.
La nueva ubicación de Brownsville en la antigua Escuela Primaria Allie Yniestra ha sido objeto de una renovación de un año, con muchos de los elementos originales de la construcción de la era de 1930 conservados.
La reubicación marca una rara victoria para la preservación histórica en el oeste de Pensacola
La restauración de la escuela ha sido aclamada como un éxito para los esfuerzos de preservación histórica en Pensacola. Después de ser comprado en el Distrito Escolar del Condado de Escambia por $675,000 en 2016, la organización utilizó una variedad de fuentes de financiamiento e incentivos para el proyecto. Entre ellos, $ 6.4 millones en créditos impositivos federales para nuevos mercados que incentivan la reurbanización y la inversión en comunidades de bajos ingresos.
La reubicación a Brownsville marca un cambio para el centro de salud comunitario, que anteriormente tenía su sede en las calles N. Palafox y Maxwell antes de 2014. Ese edificio experimentó inundaciones catastróficas el 29 de abril de 2014, con más de dos pies de agua en los 19,000 pies cuadrados instalaciones.
En cuestión de días, el centro de salud reubicó su actividad clínica y administrativa en West Jordan Street en el complejo de oficinas profesionales Mid Town y reanudó los servicios de atención al paciente durante casi cuatro años mientras trabajaba para encontrar un nuevo hogar permanente.
"El código postal 32505 es en realidad donde residen la mayoría de nuestros pacientes, así que sentimos que realmente necesitamos estar aquí para servir a esta comunidad", dijo Chandra Smiley, directora ejecutiva de Community Health.
El código postal 32505, que abarca aproximadamente desde la costa norte de Bayou Chico hasta la I-10 entre la autopista 29 y la autopista 90, es donde se registra la mayor disparidad de salud y los mayores desafíos para acceder a la atención médica en Pensacola, según Smiley.
"Encontrar este edificio resultó ser una de esas bendiciones, el momento fue el adecuado para nosotros," dijo Smiley.
Construida en 1936, Allie Yniestra Elementary ha sido durante mucho tiempo un punto de referencia cívico en Brownsville. Después de más de 75 años de operación, el distrito escolar optó por cerrar la escuela como parte de un gran esfuerzo para estremecer a las escuelas en los vecindarios de bajos ingresos.
Los cierres han generado controversia, sobre todo con la escuela Hallmark en el vecindario Tanyard cuando el distrito escolar la cerró en 2011. Esa escuela, demolida el año pasado, fue en gran parte víctima de "demolición por negligencia," un término utilizado para describir Demolición forzada de una propiedad debido a que el propietario no la mantuvo. Si bien no existen leyes en contra en Pensacola, en muchos municipios de todo el país, su práctica se enfrenta con consecuencias legales.
En contraste con las fallas en salvar otras escuelas históricas, Smiley dijo que la restauración de Yniestra fue gratificante. Ella dijo que espera que el proyecto ayude a impulsar más inversiones en la revitalización de Brownsville. Como parte de la restauración, el centro de salud también se aseguró de que los subcontratistas y las empresas de Brownsville tuvieran preferencia para trabajar en el proyecto.
"El proyecto para restaurar la escuela funcionó muy bien," dijo Smiley. "Tuvimos un gran contratista general, Greenhut Construction y un gran arquitecto con Heffernan Holland Morgan Architecture. Realmente nos guiaron a través del proceso. Fue un poco aterrador al principio, pero fuimos muy afortunados. Los huesos y la estructura del edificio eran sólidos."
Nuevo nombre, misma misión
Este nuevo sitio de centro de salud de 56,000 pies cuadrados ofrece atención primaria para adultos y familias, servicios de bienestar y salud del comportamiento, optometría, rayos X, laboratorio y servicios de apoyo al paciente, y se agregará una clínica pediátrica en el futuro cercano. Las oficinas administrativas principales del centro de salud también se encuentran en la nueva ubicación, junto con otras 14 oficinas de atención primaria en los condados de Escambia y Santa Rosa, que incluyen ocho ubicaciones pediátricas y tres clínicas dentales.
"La apertura de nuestra nueva ubicación y la presentación de nuestro nuevo nombre y logotipo son parte de nuestro plan estratégico de largo alcance," dijo Smiley. "Sabíamos que el momento debía ser el correcto, y estamos emocionados de comenzar el próximo capítulo de nuestra organización, y el nuevo año, con un nuevo nombre, marca y construcción que refleje el impacto que esperamos tener en la salud de nuestra comunidad. en el futuro, y nuestro alcance ampliado en las comunidades que más necesitan servicios de salud."
Con su sitio en el corazón de Brownsville, Smiley dijo que espera que puedan ser más que un lugar donde los pacientes visiten una sala de exámenes.
"Realmente queremos que el vecindario participe," dijo Smiley. "Tenemos un jardín comunitario y tenemos una sala de educación que se puede ofrecer para reuniones y clases. Es importante para nosotros tener un papel activo en esta comunidad."
Hasta el momento, Smiley dijo que no ha recibido más que elogios de los pacientes y residentes del área.
"Los comentarios que recibimos de la comunidad es que todos están realmente emocionados," dijo Smiley. "Creo que, por una vez, finalmente tenemos un espacio que rinde homenaje a la atención que brindamos a la comunidad."
Pensacola Bay area's non-profit health center opens new doors in historic Brownsville school after $9 million renovation project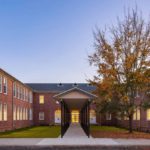 PENSACOLA, Fla.—Escambia Community Clinics, the Pensacola Bay area's only Federally Qualified Health Center, officially unveiled its rebranding as Community Health Northwest Florida, along with celebrating the official opening of its new main patient care location at 2315 W. Jackson Street in the Brownsville community of Pensacola.
The new Brownsville location at the former Allie Yniestra Elementary School has undergone a year-long renovation, with many of the original elements of the 1930's era building preserved.
Relocation marks a rare win for historic preservation in west Pensacola
The restoration of the school has been hailed as a success for historic preservation efforts in Pensacola. After being purchased from the Escambia County School District for $675,000 in 2016, the organization utilized a host of funding sources and incentives for the project. Among them, $6.4 million in federal New Market Tax Credits that incentivize redevelopment and investment in low-income communities.
The relocation to Brownsville marks a change for community health center, which was previously headquartered at N. Palafox and Maxwell streets prior to 2014. That building experienced catastrophic flooding on April 29, 2014, with more than two feet of water throughout the 19,000 square foot facility.
Within days, the health center relocated its clinical and administrative activity to West Jordan Street at the Mid Town Professional Office Complex and resumed patient care services for nearly four years while working toward finding a permanent new home.
"The 32505 zip code is actually where most of our patients reside, so we felt like we really needed to be here to serve this community," said Chandra Smiley, Community Health's Chief Executive Officer.
The 32505 zip code — which spans roughly from the north shore of Bayou Chico to I-10 between Highway 29 and Highway 90 — is where the most health disparity and where the most challenges to access to healthcare are in Pensacola, according to Smiley.
"Finding this building happened to be one of those blessings — the timing was right for us," Smiley said.
Built in 1936, Allie Yniestra Elementary has long been a civic landmark in Brownsville. After more than 75 years of operation, the school district opted to close the school as part of a vast effort to shudder schools in low-income neighborhoods.
The closings have resulted in controversy, most notably with the Hallmark School in the Tanyard neighborhood when the school district closed it in 2011. That school, demolished late last year, was largely the victim of "demolition by neglect," a term used to describe forced demolition of a property due to the property owner's failure to maintain it. While there are no laws against it in Pensacola, in many municipalities across the country, its practice is faced with legal consequences and heavy fines.
In contrast to the failures to save other historic schools, Smiley said the restoration of Yniestra was gratifying. She said she hopes the project helps spur further investment in the revitalization of Brownsville. As part of the restoration, the health center also made sure subcontractors and companies in Brownsville were given preference to work on the project.
"The project to restore the school went off very well," said Smiley. "We had a great general contractor, Greenhut Construction and a great architect with Heffernan Holland Morgan Architecture. They really guided us through the process. It was a little scary at first but we were very fortunate. The bones and structure of the building were solid."
New name, same mission
This new 56,000 square foot health center site offers adult and family primary care, behavioral health and wellness services, optometry, x-ray, laboratory, and patient support services, with a pediatric clinic to be added in the near future. The health center's main administrative offices are also housed in the new location, along with 14 other primary care offices throughout Escambia and Santa Rosa Counties, including eight pediatric and three dental locations.
"The opening of our new location and the unveiling of our new name and logo are all part of our long range strategic plan," said Smiley. "We knew the timing had to be just right, and we're excited to begin the next chapter of our organization—and the new year—with a new name, brand and building that reflects the impact we hope to have on our community's health in the future, and our broadened reach into the communities that need healthcare services the most."
With its site in the heart of Brownsville, Smiley said she hopes they can be more than just a place where patients visit an exam room.
"We really want the neighborhood to be engaged," Smiley said. "We have a community garden and we have an education room that can be offered for meetings and classes. It's important for us to have an active role in this community."
So far, Smiley said she's heard nothing but praise from patients and area residents.
"The feedback we've received from the community is that everyone is really excited," Smiley said. "I think, for once, we finally have a space that honors that care that we provide to the community."