Disparo fatal involucrado con oficiales bajo revisión
FORT WALTON BEACH, Fla. – El Okaloosa County Sheriff, Larry Ashley, y el jefe de policía de Fort Walton Beach, Robert Bage, realizaron una conferencia de prensa conjunta el 18 de diciembre para proporcionar información adicional sobre un caso de homicidio del Fort Walton Beach Police Department y el posterior tiroteo mortal del oficial de la OCSO. del sospechoso el 17 de diciembre.
El departamento de policía respondió a una llamada sobre un tiroteo afuera de un negocio en el 25 Walter Martin Road alrededor de las 12:30 p.m. ese día. Los informes dicen que los oficiales encontraron que una empleada, Edith Cordona Cantu, de 35 años, había recibido varios disparos y falleció . El motivo del crimen aún está bajo investigación, pero el jefe de policía Bage dice que se cree que los problemas de salud mental son un factor.
Después de que Cantu recibió un disparo, los agentes de policía transmitieron el nombre del presunto tirador, Clyde Sullivan, de 27 años, y una descripción de su vehículo a las agencias policiales del Condado de Okaloosa.
Poco tiempo después, un oficial del Condado de Okaloosa vio el vehículo del sospechoso que se dirigía hacia el norte por Lewis Turner Boulevard. Autoridades adicionales convergieron en el área y el vehículo del sospechoso, en Timberlake Road. Según el informe de la oficina del sheriff, el sospechoso había retrocedido en la carretera, estacionándose perpendicularmente al centro de la carretera con el lado del conductor frente a los agentes que vienían de Lewis Turner Blvd. Se acercaron y encajonaron en su vehículo desde el lado del conductor, la parte delantera y trasera cuando apuntó con una pistola a los agentes y les disparó una ronda. Cuatro de los ocho oficiales dispararon simultáneamente contra el sospechoso impactándolo varias veces.
La posterior investigación y revisión de varias cámaras del cuerpo de policías muestran al sujeto apuntando con su arma a los agentes que se acercan. También se descubrió una pistola de calibre 45 y una carcasa gastada dentro de su vehículo.
El Okaloosa County Sheriff, Larry Ashley, dijo: "La revisión de numerosas cámaras usadas en el cuerpo deja en claro que este fue un uso justificado de la fuerza por parte de los agentes que enfrentan un peligro claro y presente."
Según los procedimientos estándar, esos oficiales permanecen con licencia administrativa pagada en espera de una revisión administrativa formal.
Officer-involved fatal shooting under review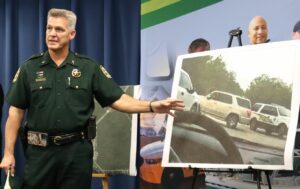 FORT WALTON BEACH, Fla. – Okaloosa County Sheriff Larry Ashley and Fort Walton Beach Police Chief Robert Bage held a joint news conference on December 18 to provide additional information on a Fort Walton Beach Police Department homicide case and the OCSO's subsequent officer-involved fatal shooting of the suspect December 17.
The police department responded to a call about a shooting outside a business at 25 Walter Martin Road at around 12:30 p.m. that day. Reports say officers found an employee, 35 year old Edith Cordona Cantu, had been shot multiple times and died. The motive for the crime is still under investigation but Chief Bage says mental health issues are believed to be a factor.
After Cantu was shot, police officers relayed the name of the suspected shooter, 27-year old Clyde Sullivan, and a description of his vehicle to Okaloosa County law enforcement agencies.
A short time later, an Okaloosa County deputy spotted the suspect's vehicle heading north on Lewis Turner Boulevard. Additional deputies converged on the area and the suspect's vehicle, on Timberlake Road. According to the sheriff's office report, the suspect had backed up in the roadway, parking perpendicular to the center of the road with the driver's side facing oncoming deputies from Lewis Turner Blvd. They approached and boxed in his vehicle from the driver side, the front, and back when he pointed a handgun at deputies and fired a round at them. Four of the eight deputies simultaneously fired on the suspect striking him multiple times.
Subsequent investigation and review of multiple deputy body cameras show the subject pointing his gun at approaching deputies. A 45 caliber handgun and expended shell casing were also discovered within his vehicle.
Okaloosa County Sheriff Larry Ashley said, "Review of numerous body worn cameras make it clear that this was a justified use of force by deputies facing a clear and present danger."
Per standard procedures, those deputies remain on paid administrative leave pending a formal administrative review. 
[adrotate group="1"]