Bayview Senior Center reabrirá el miércoles con un horario modificado
PENSACOLA, Fla. – El City of Pensacola Parks and Recreation Department anuncio que las renovaciones de Bayview Senior Center están completas y que el centro volverá a abrir con un horario limitado a partir de las 8 a.m.del miércoles 18 de diciembre.
Las renovaciones del centro para adultos mayores incluyeron nuevos baños para cumplir con los estándares de accesibilidad de la Ley de Estadounidenses con Discapacidades, pisos de baldosas nuevas, pasamanos de seguridad en todo el edificio y pintura interior.
El servicio de comidas del Council on Aging estará disponible en Bayview Senior Center nuevamente a partir del jueves 19 de diciembre de 11 a.m. a mediodía de lunes a viernes. Para registrarse, comuníquese con el Council on Aging al 850-266-2512 el día anterior al mediodía.
Debido al estacionamiento limitado, después de la apertura inicial el miércoles, el horario operativo para Bayview Senior Center será de 7 a.m. a 4 p.m. De lunes a viernes.
Clubes adicionales y clases nocturnas regresarán a partir del lunes 3 de febrero, y los eventos especiales y alquileres se realizarán gradualmente después de que se abra el Bayview Community Center y se complete el estacionamiento compartido.
Un corte de cinta oficial para el centro de personas mayores se programará más adelante en enero.
Para obtener más información sobre los programas y servicios en el Bayview Senior Center, visite playpensacola.com.
Bayview Senior Center to Reopen Wednesday with a Modified Schedule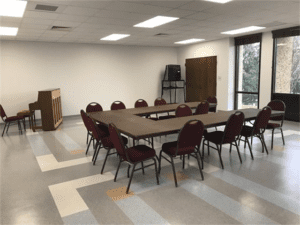 PENSACOLA, Fla. – The City of Pensacola Parks and Recreation Department the Bayview Senior Center renovations are complete, and the center will reopen with a limited schedule starting at 8 a.m. Wednesday, Dec. 18.
The senior center renovations included new restrooms to meet Americans with Disabilities Act accessibility standards, new tile flooring, safety handrails throughout the building, and interior painting.
The Council on Aging meal site service will be available at Bayview Senior Center again starting Thursday, Dec. 19 from 11 a.m. to noon on Monday through Friday. To register, contact the Council on Aging at 850-266-2512 the day prior by noon.
Due to limited parking, after the initial opening on Wednesday, the operating schedule for Bayview Senior Center will be 7 a.m. to 4 p.m. Monday through Friday.
Additional clubs and evening classes will return beginning Monday, Feb. 3, and special events and rentals will be phased in after the Bayview Community Center opens and the shared parking lot is completed.
An official ribbon cutting for the senior center will be scheduled later in January.
For more information, about programs and services at the Bayview Senior Center, please visit playpensacola.com. 
[adrotate group="1"]