Creciendo juntos
Por: Maria Juliana Ayala
Los amantes de la comida latina ahora pueden disfrutar de los platos típicos de la comida peruana y mexicana en un mismo lugar. Pedro Ramírez propietario de DonCha comida peruana y José R. Valencia propietario del restaurante mexicano Chapala hace menos de un mes empezaron a compartir el local. Hoy son ejemplo de apoyo y amistad para la comunidad latina.
"Después de 3 años de trabajar como cocinero en el restaurante Chapala de Fort Walton Beach, Pedro me demostró ser un excelente trabajador, un hombre honrado y un gran amigo," dijo Valencia quien ahora es su exjefe.
Valencia le dio la oportunidad a su amigo de empezar su negocio en un espacio dentro de su restaurante.
"Se me ocurrió hacerle la propuesta a Pedro principalmente para ayudarlo a empezar su negocio de comida peruana. El ya había ganado fama por cocinar desde su casa. Yo no usaba mucho esa parte del local, así que se lo propuse," dijo Valencia.
El dueño de Chapala dice que los latinos que están en los Estados Unidos deben progresar juntos y no pisotearse entre ellos. Agrega también que siempre le ha gustado ayudar a los demás a crecer.
Los dos emprendedores opinan que el negocio de las comidas requiere de grandes sacrificios y constancia. Aconsejan a todos aquellos que quieran empezar un negocio tener la certeza de que eso es lo que quieren hacer y que se van a dedicar a sacarlo adelante.
Ramírez describe a Valencia como una persona honrada, un buen amigo siempre dispuesto a dar la mano. Para el propietario de DonCha, el objetivo de un restaurante es hacer que su negocio trascienda en la gente.
"Conozco clientes que vienen todos los días al restaurante. Los negocios deben ir más allá de solo servir la comida, la idea es que el que venga a visitarnos, les guste y se sienta en casa," añade Ramirez.
El pollo salteado a lo pobre y la leche de tigre son para Valencia los mejores platos peruanos que prepara su amigo, por su lado Ramírez recomienda los tacos de Chapala porque siempre están frescos y el bistec a la mexicana como uno de sus platos favoritos.
Los dos restaurantes están ubicados en 67 Eglin Pkwy NE, Fort Walton Beach.
El restaurante Chapala planea ofrecer un nuevo concepto los sábados por la noche de 10 p.m. a 4 a.m. en donde los clientes disfrutarán de una noche latina donde podrán bailar, comer, tomar y disfrutar en un ambiente latino. Este nuevo servicio será ofrecido después de que las restricciones del estado frente a la propagación del coronavirus lo permitan.
DonCha ofrece su servicio de domingo a jueves de 11 a.m. a 6 p.m., viernes y sábados de 11 a.m. a 8 p.m. y los domingos a las 9 a.m.
Los dos restaurantes siguen ofreciendo sus servicios bajo las indicaciones dadas por el estado frente al coronavirus.
Growing up together
By: Maria Juliana Ayala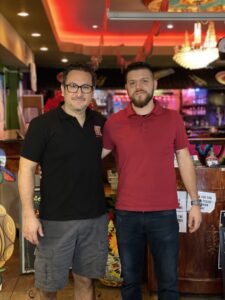 Lovers of Latin food can now enjoy the typical dishes of Peruvian and Mexican food in one place. Pedro Ramírez owner of DonCha Peruvian food and José R. Valencia owner of the Mexican restaurant Chapala less than a month ago began to share the premises. Today they are an example of support and friendship for the Latino community.
"After 3 years of working as a cook at the Chapala restaurant in Fort Walton Beach, Pedro showed me to be an excellent worker, an honest man and a great friend," said Valencia, who is now his former boss.
Valencia gave his friend the opportunity to start his business in a space inside his restaurant.
"It occurred to me to make the proposal to Pedro mainly to help him start his Peruvian food business. He had already gained a reputation for cooking from home. I didn't use that part of the premises much, so I proposed it to him, "Valencia said.
The Chapala owner says that Latinos in the United States must progress together and not trample each other. He also adds that he has always liked helping others to grow.
The two entrepreneurs believe that the food business requires great sacrifices and perseverance. They advise all those who want to start a business to be certain that this is what they want to do and that they are going to dedicate themselves to making it happen.
Ramírez describes Valencia as an honest person, a good friend always ready to shake hands. For the DonCha owner, the goal of a restaurant is to make his business transcend people.
"I know clients who come to the restaurant every day. Businesses should go beyond just serving food, the idea is that whoever comes to visit us, likes it and feels at home, "adds Ramirez.
Chicken sautéed to the poor and tiger's milk are for Valencia the best Peruvian dishes prepared by his friend, for his part Ramírez recommends the Chapala tacos because they are always fresh and the Mexican steak as one of his favorite dishes.
The two restaurants are located at 67 Eglin Pkwy NE, Fort Walton Beach.
The Chapala restaurant plans to offer a new concept on Saturday nights from 10 p.m. at 4 a.m. where customers will enjoy a Latin night where they can dance, eat, drink and enjoy in a Latin environment. This new service will be offered after state restrictions on the spread of the coronavirus allow it.
DonCha offers its service from Sunday to Thursday from 11 a.m. at 6 p.m., Friday and Saturday from 11 a.m. at 8 p.m. and on Sundays at 9 a.m.
The two restaurants continue to offer their services under the indications given by the state regarding coronavirus.
[adrotate group="1"]