Cox permite a los clientes con discapacidades físicas controlar la guía de video de contorno con los ojos
ATLANTA, GA – Cox presentó una nueva función que permite a las personas con discapacidades controlar su televisor con los ojos. El control remote de red accesible para contorno brinda a quienes han perdido la motricidad fina, ya sea por condiciones degenerativas o parálisis, la capacidad de navegar por la guía de video con un vistazo.
Específicamente, se puede navegar por un control remoto gratuito basado en la red utilizando varias tecnologías de asistencia propiedad de los clientes, incluido el hardware y software de la mirada, los controles de interruptores y los sistemas de sorber y soplar, que el usuario controla soplando suavemente en un tubo.
La tecnología de seguimiento ocular brinda a las personas que viven con afecciones como paraplejía, enfermedad de Parkinson y esclerosis lateral amiotrófica (ELA) el mismo acceso a sus televisores que los clientes con la última edición de Contour.
"Una tecnología innovadora como esta brinda a las personas con discapacidades un nivel adicional de independencia," dijo Steve Gleason, fundador del Team Gleason y ex jugador de fútbol de los New Orleans Saints que ha estado viviendo con ALS desde 2011. "Apreciamos que compañías como Cox continúen fortaleciendo sus usuarios mediante la adopción de productos como el Accessible Web Remote, que permite a cada cliente hacer algo que la mayoría de la gente hacen sencillamente, como controlar su televisor."
Según la Oficina de Accesibilidad al Internet, aproximadamente el 16% de las personas en los Estados Unidos tienen dificultades con su funcionamiento físico, lo que hace que cosas como usar un control remoto de TV tradicional sea un desafío o imposible, según la condición. A lo largo de los últimos tres años, Cox se ha asociado con organizaciones como Team Gleason para garantizar un diseño y desarrollo accesibles de sus productos, aumentar la conciencia y la educación al igual que mejorar los procesos y procedimientos que se centran en la inclusión de la discapacidad.
Los clientes ahora pueden visitar https://webremote.cox.com para sincronizar su dispositivo y comenzar a cambiar de canal, establecer una grabación, buscar programación dentro de la guía Contour y acceder a aplicaciones de transmisión integradas, todo con una mirada de sus ojos. 
Cox Enables Customers with Physical Disabilities to Control Contour Video Guide with Eyes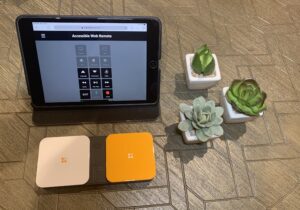 ATLANTA, GA – Cox unveiled a new feature that empowers people with disabilities to control their TV with their eyes. The Accessible Web Remote for Contour gives those who have lost fine motor skills – whether from degenerative conditions or paralysis – the ability to browse the video guide with a glance.
Specifically, a free web-based remote control is navigable using various assistive technologies owned by customers, including eye gaze hardware and software, switch controls, and sip-and-puff systems, which the user controls by gently blowing into a tube.
Eye-tracking technology gives people living with conditions like paraplegia, Parkinson's disease and amyotrophic lateral sclerosis (ALS) the same access to their TVs as customers with the latest edition of Contour.
"Innovative technology like this gives people with disabilities an added level of independence," said Steve Gleason, founder of Team Gleason and former New Orleans Saints football player who has been living with ALS since 2011. "We appreciate that companies like Cox continue to empower their users by adopting products like the Accessible Web Remote, which allows every customer to do something most people take for granted, like controlling their TV."
According to the Bureau of Internet Accessibility, approximately 16% of people in the United States have difficulties with their physical functioning, making things like using a traditional TV remote either a challenge or impossible, depending on the condition. Throughout the last three years, Cox has partnered with organizations like Team Gleason to ensure accessible design and development of its products, increase awareness and education, and improve processes and procedures focusing on disability inclusion.
Customers can now visit https://webremote.cox.com to sync their device and begin changing channels, set a recording, search for programming within the Contour guide, and access integrated streaming apps all with a glance of their eyes. 
[adrotate group="1"]