La Red SBDC de la Florida, el senador Marco Rubio organiza la conferencia sobre resiliencia de pequeñas empresas
Las pequeñas empresas de Florida están invitadas a registrarse para la Conferencia Virtual de Resiliencia de Pequeñas Empresas: Sustain the Pivot, un evento sin costo organizado por la Red del Centro de Desarrollo para Pequeñas Empresas de Florida (SBDC) y la Oficina del Senador de los Estados Unidos Marco Rubio. El evento tendrá lugar del 18 al 19 de mayo de 2021.
Esta conferencia virtual durará varios días y equipará a las pequeñas empresas de Florida con las estrategias y los recursos necesarios para navegar los desafíos que ha causado el COVID-19 y conectarlos con proveedores de recursos que pueden ayudarlos en su recuperación a largo plazo.
El evento contará con presentaciones de consultores comerciales de la Red del Centro de Desarrollo para Pequeñas Empresas de Florida sobre temas que incluyen marketing, ciberseguridad, acceso al capital y recursos humanos. Los consultores compartirán conocimientos comerciales y analizarán cómo los asistentes pueden aprovechar la oferta de servicios de la red de consultoría, capacitación y recursos sin costo. Cada sesión de medio día concluirá con una presentación posterior al evento en español.
El senador Marco Rubio pronunciará un discurso de bienvenida enfatizando la importancia de las pequeñas empresas para la economía del estado. También habrán presentaciones de apertura de Emily Ley, CEO de Simplified, y John Gilmore, ex ala cerrada de los Tampa Bay Buccaneers y presidente y CEO de Brandthumb. Durante estas presentaciones, los asistentes aprenderán habilidades y conocimientos adicionales para ayudar a que su negocio tenga éxito a pesar de las circunstancias difíciles.
"El pasado año ha sido increíblemente difícil para todos y las pequeñas empresas no fueron la excepción," dijo el Senador Rubio. "Forman la columna vertebral de nuestras comunidades, impulsan la innovación y crean buenos empleos, pero muchos eran especialmente vulnerables a las consecuencias económicas de la pandemia y las ordenes de salud pública. El Programa de protección de cheques de pago fue diseñado para ayudar tanto a los propietarios de pequeñas empresas como a sus empleados a sobrevivir esta crisis. Ahora, mientras miramos hacia la reapertura total de nuestra economía, debemos trabajar para garantizar que estas pequeñas empresas tengan acceso a las herramientas que necesitan para prosperar."
La inscripción y la información sobre la conferencia están disponibles en www.sustainthepivot.eventbrite.com. 
Florida SBDC Network, Senator Marco Rubio host small business resiliency conference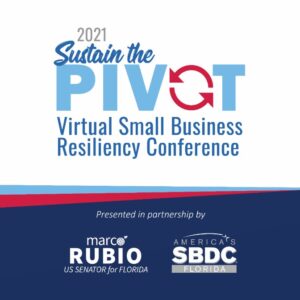 Florida's small businesses are invited to register for the Virtual Small Business Resiliency Conference: Sustain the Pivot, a no-cost event hosted by the Florida Small Business Development Center (SBDC) Network and the Office of U.S. Senator Marco Rubio. The event will take place May 18-19, 2021.
This multi-day, virtual conference will equip Florida's small businesses with the strategies and resources needed to navigate the ongoing challenges of COVID-19 and connect them with resource providers who can aid in their long-term recovery.
The event will feature presentations from Florida SBDC Network business consultants on topics including marketing, cybersecurity, capital access and human resources. Consultants will share business insights and discuss how attendees can leverage the network's service offering of no-cost consulting, training and resources. Each half-day session will conclude with a post-event presentation in Spanish.
Senator Marco Rubio will deliver a welcome address emphasizing the importance of small businesses to the state's economy. There will also be keynote presentations by Emily Ley, CEO of Simplified, and John Gilmore, former tight end for the Tampa Bay Buccaneers and president and CEO of Brandthumb. During these presentations, attendees will learn additional skills and knowledge to help their business succeed despite difficult circumstances.
"This past year has been incredibly hard for all of us, and small businesses were no exception," said Senator Rubio. "They form the backbone of our communities, drive innovation, and create good jobs, but many were uniquely vulnerable to the economic fallout from the pandemic and public health lockdowns. The Paycheck Protection Program was designed to help both small business owners and their employees survive this crisis. Now, as we look toward fully reopening our economy, we must pivot to ensuring these small businesses have access to the tools they need to thrive."
Registration and information about the conference is available at www.sustainthepivot.eventbrite.com. 
[adrotate group="1"]