Comunidad celebra siete quinceañas/os
PENSACOLA, Fla.—Las bancas St. John the Evangelist Catholic Church en Pensacola comenzaron a llenarse en su horario habitual para la misa de mediodía en español, pero el 12 de agosto fue un día especial. En este día, la congregación, familia y amigos se reunieron para celebrar cinco quinceañeras y dos quinceañeros.
En muchas culturas latinas, la celebración del decimoquinto cumpleaños marca la transición de la niñez a la adultez temprana. Es más ampliamente reservado para las niñas con fiestas extravagantes comparables a las galas de debutantes estadounidenses y europeos. Las festividades a menudo toman un matiz y simbolismo más religioso.
A menudo, el gasto y la mano de obra para un quinceaños son demasiado para una familia, así que los miembros de St. Johns trabajaron juntos para crear una celebración para todos sus quinceañeros/as. Comenzó con una misa bilingüe dirigida por ambos padres. Dennis O'Brien y John Licari. Las cinco quinceañeras, gemelas, Teresa y Katie, primas, Jazmin y Karina y Fernanda se sentaron en fila frente al altar.
También celebraron dos niños, Martin y Leonardo, ambos con necesidades especiales. Se sentaron con sus padres en el banco de enfrente durante el servicio.
Durante esta misa especial, cada uno de los adolescentes recibió flores para ofrecer a la Virgen de Guadalupe, una vela que simboliza la luz de Cristo, una Biblia para guardar sus corazones con la Palabra de Dios y un anillo para simbolizar el compromiso de la castidad hasta el matrimonio. Las niñas también recibieron una corona para simbolizar la corona suprema de la vida.
"No estamos aquí solamente para celebrar, sino para volver a dedicar nuestras vidas como cristianos," dijo el p. O'Brien durante el sermón.
Después de la misa, los asistentes compartieron un generoso buffet que abarcó ocho mesas preparadas por los feligreses. La recepción fue seguida por un baile tradicional de padre e hija, luego más baile y el corte del pastel!
"No todos pueden pagar esto," dijo el padre. O'Brien rodeado de familias mientras disfrutaban de la tarta de cumpleaños y la música proporcionada por DJ Mario Jiménez. "Simplemente creo que cada quinceañera/o debería sentirse especial en su cumpleaños, y la comunidad debería ayudar."
O'Brien agregó que no se usaron fondos de la iglesia para producir el evento. La comunidad de la iglesia donó todo, incluidas las decoraciones, la comida, el tiempo y el trabajo para la instalación y la limpieza.
"Solo quiero agradecer a la iglesia y a todos los que ayudaron," dijo la madre de Fernanda, Blanca.
"Quiero agradecer a Dios por permitirle a mi hijo completar sus 15 años," dijo Raquel, madre de Martin.
Todo fue para celebrar a siete adolescentes y hacerlos sentirse especiales en su día.
Community Celebrates Seven Quinceñeras/os
PENSACOLA, Fla.—The pews at St. John the Evangelist Catholic Church in Pensacola began to fill at its regular time for the midday Spanish mass, but August 12 was a special day. On this day, the congregation, family and friends gathered to celebrate five quinceañeras and two quinceañeros.
In many Latino cultures, the celebration of one's fifteenth birthday marks the transition from childhood to young adulthood. It is more widely reserved for girls with extravagant parties comparable to American and European debutante balls. The festivities often take a more religious nuance and symbolism.
Often, the expense and labor for a quincenera are too much for a family to afford, so the members of St. Johns worked together to create a celebration for all of their quinceañeras/os. It started with a bilingual Mass led by both Frs. Dennis O'Brien and John Licari. The five quinceañeras, twins, Teresa and Katie, cousins, Jazmin and Karina and Fernanda sat in a row in front of the altar.
Two boys, Martin and Leonardo, both with special needs, were also celebrated. They sat with their parents in the front pew during the service.
During this special Mass, each of the teens were given flowers to offer to the Virgen de Guadalupe, a candle symbolizing the light of Christ, a Bible to guard their hearts with Word of God, and a ring to symbolizing the commitment to chastity until marriage. The girls were also given a crown to symbolize the ultimate crown of life.
"We are not here solely to celebrate, but to rededicate our lives as Christians," said Fr. O'Brien during the sermon.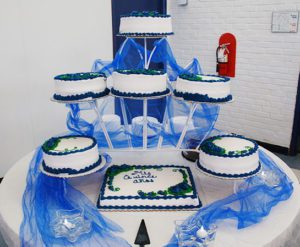 After the Mass, attendees shared a generous buffet that spanned eight tables prepared by the parishioners. The reception was followed by a traditional father-daughter dance, then more dancing and the cutting of the cake!
"Not everyone can afford this," said Fr. O'Brien surrounded by families as they enjoyed birthday cake and music provided by DJ Mario Jimenez. "I just think that every fifteen year old should feel special on their birthday, and the community should help."
O'Brien added that no funds from the church were used to produce the event. The church community donated everything including decorations, food, time and labor to set-up and cleanup.
"I just want to say thank you to the church and all who helped," said Fernanda's mother, Blanca.
"I want to thank God for permitting my son to complete his 15 years," said Raquel, mother of Martin.
It was all to celebrate seven teenagers to make them feel special on their day.
Jazmin
Feliz cumpleaños! Dios te benidga todos los dias de tu vida.
Happy birthday! God bless you all the days of your life.
-Maria, Mother
IX Song: Quince Años – Joan Sebastian
Teresa & Katie
Happy birthday! We are proud of you. Many blessings to you both.
-Jeanne, Mother
IX Songs
Teresa: Somewhere over the Rainbow – Israel Kamakawiwo'ole
Katie: Butterfly Kisses – Bob Carlisle
Leonardo
Gracias a Dios por sus 15 años. ~ Thank God for your 15 years!
-Mother, Susana
Karina
Que Dios siga guiando tu camino y bendiga. Siempre siga siendo la niña que siempre has sido. Siempre estremos contigo. Tu papa y yo te amamos. ~ May God continue to guide your path and bless you. Always keep bing the girl that you have always been. We will be with you, your father and I love you.
-Jose L. & Candida, Parents
IX Song: No Crezcas Mas – Tercer Cielo
Maria Fernanda
Estamos orgullosos de ti. ¡Feliz 15 cumpleaños! ~ We are proud of you. Happy 15th birthday!
-Blanca & Paco, Parents
IX Song: Tu Sangre en Mi Cuerpo – Angela Aguilar feat. Pepe Aguilar
Martin
Feliz cumpleaños Martín. Tú sabes que soy la madre más orgullosa del mundo. Te quiero mucho Martín. ~ Happy birthday Martin. You know that I am the most proud mother in the world. I love you Martin.
-Raquel, Mother
[adrotate group="1"]