Nueva barbería en Milton
MILTON, Fla.-Prepárese para comenzar a ver a hombres de apariencia más arreglada en Milton. Hay una nueva barbería en la ciudad, y su brillo latino impresionará.
Franklyn Dominguez ha abierto Cut & Blend Barbershop en 5156 Santa Rosa St., justo al lado de Hwy 90 en el centro de Milton. El peluquero dominicano experimentado dice que será una barbería tradicional.
"Quiero traer de vuelta un servicio genuino en una barbería," dijo Domínguez. "Decidí adoptar un enfoque personalizado con mis clientes, lo que les permitió sentirse más en casa. Cada servicio atiende a los deseos y necesidades específicos de cada cliente."
Con más de una década de experiencia, es común que sus clientes viajen a través de las líneas estatales y del condado para cortarse el pelo.
Si está listo para la atención, puede reservar su cita en www.cutandblend.com.
New Barbershop in Milton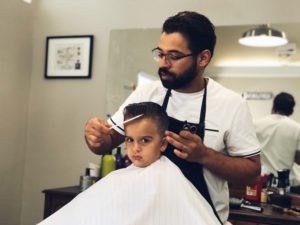 MILTON, Fla.—Be ready to start seeing some sharper looking men in Milton. There's a new barbershop in town, and its Latin flare is likely to impress.
Franklyn Dominguez has opened Cut & Blend Barbershop at 5156 Santa Rosa St., just off Hwy 90 in Downtown Milton. The experienced Dominican barber says his will be a traditional barbershop.
"I want to bring back genuine service in a barbershop," Dominguez said. "I decided to take a one-on-one approach with my clients allowing them to feel more at home. Every service is catered to each client's specific wants and needs."
With over a decade of experience, it is common for his clients to travel across county and state lines to see him for a haircut.
If you are ready for the attention, you can book your appointment at visit www.cutandblend.com.
[adrotate group="1"]