Banderas en media asta en memoria después del huracán
TALLAHASSEE, Fla.—El domingo 10 de septiembre del 2017, la diputada Julie Ann Bridges de la Oficina del Sheriff del Condado de Hardee y el Sargento Joseph Ossman de Florida Department of Corrections perdieron trágicamente sus vidas en un accidente de tráfico durante los preparativos y la respuesta al huracán Irma. En honor a la oficial Julie Ann Bridges y al sargento Joseph Ossman, el gobernador de la Florida, Rick Scott ordenó todas banderas de los Estados Unidos y del estado de la Florida a media asta en edificios del condado de Hardee y de la ciudad de Wauchula.
El Gobernador Scott dijo: "Tengo el corazón destrozado al enterarme de la pérdida de estas dos personas en un accidente de tránsito el 10 de septiembre del 2017. Nuestros oficiales de policía y correccionales trabajan todos los días para mantener seguros a los floridanos. Es debido a su trabajo que somos capaces de vivir en un estado donde la gente puede criar a sus familias con seguridad. Mi corazón se dirige a sus familias y a toda la comunidad policial y correccional."
Flags at half mast in memoriam after hurricane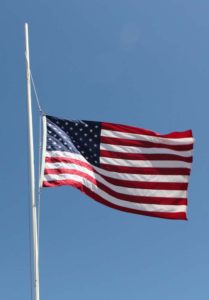 TALLAHASSEE, Fla.—On Sunday, September 10, 2017, Deputy Julie Ann Bridges of the Hardee County Sheriff's Office and Sergeant Joseph Ossman of the Florida Department of Corrections tragically lost their lives in a traffic accident during the preparations and response to Hurricane Irma. In honor of Deputy Julie Ann Bridges and Sergeant Joseph Ossman, Florida Governor, Rick Scott ordered all U.S. and State of Florida Flags to be flown at half-staff at buildings in Hardee County and City of Wauchula buildings.
Governor Scott said, "I am heartbroken to learn of the loss of these two individuals in a traffic accident on September 10, 2017. Our law enforcement and correctional officers work every day to keep Floridians safe. It is because of their work we are able to live in a state where people can raise their families safely. My heart goes out to their families and the entire law enforcement and correctional community."