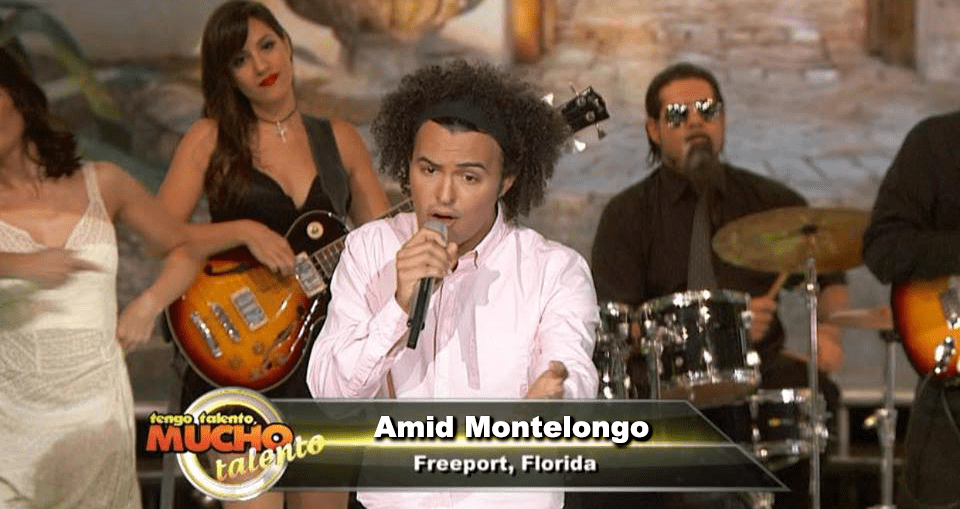 ¡Amid Montelongo Tiene Mucho Talento!
LOS ANGELES, Cal.—Las personas en el noroeste de la Florida y el sur de Alabama pueden reconocer a uno de los finalistas del show de talento en TV "Tengo Talento, Mucho Talento" en Estrella TV. Amid Montelongo ha sido un talento local popular durante varios años y rápidamente se está convirtiendo internacionalmente reconocido por su personalidad y presentación enérgica.
El vivaz cantante de 34 años ha actuado en varios eventos locales, incluyendo el Festival Latino en Pensacola y el Festival Dia de la Raza en Foley. Esta semana, "Tengo Talento, Mucho Talento" lo llevó a Los Ángeles para competir en la final del programa.
Amid ha estado compitiendo desde julio cuando logró superar las pruebas iniciales.
"Las pruebas fueron largas y tuve que ver a cada concursante hacer su propia audición," dijo Amid. "Tenía que viajar a Los Ángeles para cada audición."
Amid ha tenido una agenda apretada, pero sus esfuerzos podrían dar resultado con un premio de $100,000.
La competencia de semifinales les permite a los fanáticos votar por un ganador. Los votos ilimitados para Amid se pueden hacer por teléfono al 844-788-7512, con el texto VOTA12 al 55333 o en la web en http://tengotalento.estrellatv.com/vota. La final se llevará a cabo el 22 de noviembre.
Amid Montelongo Has Lots of Talent!
LOS ANGELES, Cal.—People in Northwest Florida and Southern Alabama may recognize one of the finalists of the TV talent show "Tengo Talento, Mucho Talento" on Estrella TV. Amid Montelongo has been a popular local talent for several years and is quickly becoming internationally recognized for his spirited personality and presentation.
The vivacious 34 year old singer has performed at various local events including the Latino Festival in Pensacola and the Dia de la Raza Festival in Foley. This week, "Tengo Talento, Mucho Talento" has flown him to Los Angeles to compete in the show's finals.
Amid has been competing since July when he made it through the initial tryouts.
"The tests were long and I had to watch each contestant do their own audition," Amid said. "I had to travel to Los Angeles for each audition."
Amid has been on a busy schedule, but his efforts could pay off in a $100,000 prize.
The semifinals competition allows fans to vote for a winner. Unlimited votes for Amid can be made by phone at 844-788-7512, text VOTA12 to 55333 or on the web at http://tengotalento.estrellatv.com/vota. The final will be held on November 22.