SRIA Planificación Modificada para el Show Aéreo en Pensacola Beach
PENSACOLA, Fla. – Después de múltiples reuniones entre el personal del Santa Rosa Island (Autoridad de la Isla de Santa Rosa o SRIA) y los artistas del espectáculo (show) aéreo, el personal propone que el SRIA continúe planificando el 2020 Pensacola Beach Air Show en julio.
El programa de exhibición aérea de este año se basa en el distanciamiento social en cumplimiento de las recomendaciones de los Centers for Disease Control and Prevention (Centros para el Control y la Prevención de Enfermedades, CDC, por sus siglas en inglés) para el virus COVID-19.
El programa será un evento de cuatro días y cada día tendrá maniobras de vuelo similares. Este horario ampliado le dará al público cuatro oportunidades diferentes para ver las actuaciones al menos una vez.
La huella del evento se ha ampliado sustancialmente y no habrá un punto central en el desempeño de este año para cumplir con las recomendaciones de los CDC.
Las exhibiciones aéreas a lo largo de la playa están programadas para comenzar antes del mediodía cada día.
El personal y los artistas de SRIA, incluidos los Blue Angels, todavía están refinando los tiempos exactos y las ubicaciones geográficas que incluirán tanto Pensacola Beach como Perdido Key.
El programa completo con todos los detalles se publicará el 26 de junio de 2020. Para conocer todas las actualizaciones oficiales, visite https://visitpensacolabeach.com/whats-happening-blue-angels/ o visite la página de Facebook de Pensacola Beach.
SRIA Planning Modified Pensacola Beach Air Show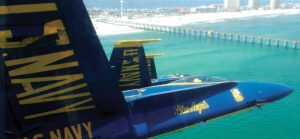 PENSACOLA, Fla. (June 10, 2020) — After multiple meetings between the Santa Rosa Island Authority (SRIA) staff and air show performers, the staff proposes the SRIA continue planning the 2020 Pensacola Beach Air Show in July.
The air show program this year is built around social distancing in observance of the Centers for Disease Control and Prevention (CDC) recommendations for the COVID-19 virus.
The program will be a four-day event, and each day will have similar flight maneuvers. This expanded schedule will give the public four different opportunities to view the performances at least once.
The event's footprint has been expanded substantially and there will be no center point in this year's performance, to comply with CDC recommendations.
Aerial displays along the beach are scheduled to begin before noon each day.
SRIA staff and performers, including the Blue Angels, are still refining exact times and geographical locations that will include both Pensacola Beach and Perdido Key.
The full program with all the details will be published on June 26, 2020. For all official updates, please visit https://visitpensacolabeach.com/whats-happening-blue-angels/ or Visit Pensacola Beach's Facebook page.
[adrotate group="1"]