El Council on Aging of West Florida comienza una asociación con restaurantes locales para proporcionar miles de comidas calientes gratuitas a las personas mayores en el hogar
PENSACOLA, Fla. – El Council on Anging of West Florida (Consejo para el Envejecimiento del Oeste de la Florida) está ampliando su programa Meals on Wheels para cubrir a todos los adultos mayores de 60 años o más que califican para el servicio, sin costo alguno para el cliente. Primal Nosh y Nancy's Catering & Events prepararán las comidas adicionales, y se entregarán a los hogares de los clientes como parte de una iniciativa para ayudar a las personas mayores durante el Coronavirus.
Esta iniciativa es parte de una asociación estatal más amplia entre el Department of Elder Affairs y los proveedores locales de servicios para personas mayores. Las entidades esperan que esto coincida con las necesidades de la comunidad empresarial y los trabajadores con las necesidades de los ancianos y los servicios de entrega de comidas.
A nivel local, el Council on Aging Consejo ha visto un aumento del 30 por ciento en la demanda de Meals on Wheels, ya que a los adultos mayores se les advierte continuamente que no se aventuren fuera innecesariamente. Además, los temores sobre la interrupción de la cadena de suministro han alimentado las tendencias de acaparamiento, dejando pocas opciones para los adultos mayores que visitan las tiendas de comestibles. Esta mayor necesidad de comidas, junto con la mayor necesidad de ingresos de los restaurantes durante el déficit económico, será beneficiosa para todas las partes involucradas.
"Estamos muy entusiasmados de ofrecer a los adultos mayores vulnerables más opciones nutritivas a medida que superamos esta crisis juntos," dijo el Presidente/CEO del Council on Aging John Clark. "La comida es una de las necesidades más fundamentales, y este programa nos permitirá satisfacer la demanda mientras brindamos seguridad a nuestros clientes durante este momento difícil."
Todas las comidas entregadas por los restaurantes locales a los adultos mayores deben cumplir con las normas nutricionales establecidas por el estado, incluida la provisión de un tercio de la cantidad calórica diaria recomendada para las personas mayores.
"Estamos agradecidos de proporcionar comidas caseras y recién hechas a nuestra población más vulnerable, nuestros ciudadanos mayores durante este momento difícil," dijo Gus Silivos, chef y propietario de Nancy.
Se proyecta que este programa se mantendrá al menos hasta fines de 2020, ya que los departamentos de salud locales y estatales siguen recomendando el distanciamiento social, especialmente para los mayores de 60 años. Los adultos mayores interesados ​​en inscribirse en el programa ampliado Meals on Wheels deben llamar al (850) 432-1475 para completar una evaluación.
Council on Aging of West Florida begins partnership with local restaurants to provide thousands of free hot meals to seniors at home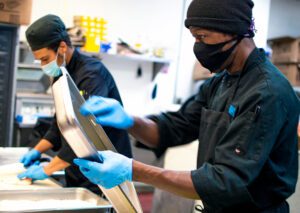 PENSACOLA, Fla. – Council on Aging of West Florida is expanding its Meals on Wheels program to cover all elderly adults 60 and over who qualify for the service, at no cost to the client. The additional meals will be prepared by Primal Nosh and Nancy's Catering & Events, and will be delivered to the clients' homes as part of an initiative to help seniors during Coronavirus.
This initiative is part of a larger statewide partnership between the Department of Elder Affairs and the local elder service providers. The entities hope that this will match the needs of the business community and workers with the needs of the elderly and meal delivery services.
Locally, Council on Aging has seen about a 30 percent increase in demand for Meals on Wheels, as seniors are continually cautioned against venturing outside unnecessarily. Additionally, fears about supply chain interruption have fueled hoarding tendencies, leaving few options for the elderly adults who do area visit grocery stores. This expanded need for meals, coupled with restaurants' increased need for income during the economic shortfall, will be a win-win for all parties involved.
"We're very excited to offer vulnerable senior adults more nutritious options as we weather this crisis together," said Council on Aging President/CEO John Clark. "Food is among the most fundamental of necessities, and this program will allow us to keep up with demand while providing our clients with safety during this difficult time."
All meals delivered by local restaurants to senior adults must meet nutritional regulations set by the state, including providing one-third of the recommended daily caloric allowance for the elderly.
"We are grateful to provide homestyle, freshly made meals to our most vulnerable population, our senior citizens during this challenging time," said Gus Silivos, chef and owner at Nancy's.
It is projected that this program will remain through at least the end of 2020, as social distancing especially for those 60 and up continues to be recommended by local and state health departments. Senior adults interested in signing up for the expanded Meals on Wheels program should call (850) 432-1475 to complete an assessment.
[adrotate group="1"]