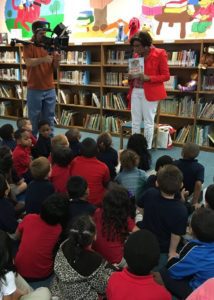 Sonia Manzano Causa Entrañable Impresión en Pensacola
PENSACOLA, Fla.—Sonia Manzano, mejor conocida como "María" en el programa de televisión de los niños, "Plaza Sésamo", estubo en Pensacola el 13 de septiembre. Durante su visita, la escritora y actriz ganadora de Emmy Award visitó a estudiantes locales preescolares y de jardín de infantil, y más tarde fue presentada en un acto público para hablar sobre su vida, su carrera y libros. Su visita fue organizada por WSRE-TV, de Gulf Coast's Public Broadcasting Station.
Manzano interpretó a Mria en "Plaza Sésamo" durante 44 años hasta que se retiró de la serie en 2015 como una de sus caras más reconocibles y un modelo a seguir para las generaciones de chicas jóvenes y las mujeres. La primera mujer latina principal de la televisión, ella ganó 15 premios Emmy por su escritura en el espectáculo infantil icónico, fue nominada dos veces por su actuación, y este año recibió el Emmy Award por su trayectoria de vida. Sus memorias, "Becoming Maria: Love and Chaos in the South Bronx", y el ultimo libro de niños, "Miracle on 133rd Street," fue publicasdo el año pasado. Ella también es autora de la novela juvenil, "The Revolution of Evelyn Serrano."
La estrella de "Plaza Sésamo" visitó a estudiantes  de preescolar y  jardín de infantil en la Ensley Elementary School que es considerada como una escuela desatendida, y muchos de sus estudiantes de habla Inglés como segunda lengua. También leyó de dos de sus libros infantiles, "una caja llena de gatitos" y "No se admiten perros." Su visita fue organizada con el fin de ayudar a destacar la importancia del aprendizaje temprano.
Tras la visita a la escuela, el público fue invitado a escuchar hablar a Manzano en el Jean & Paul Amos Perormance Studio ubicado en el campus de Pensacola State College Manzano habló sobre cómo la televisión educativa infantil ha evolucionado y el impacto de cómo los niños se representan en la televisión, y ella compartó historias acerca de su crianza en una familia puertorriqueña en el sur del Bronx y su carrera en el elenco de "Plaza sésamo".
Los padres de Manzano son de El Fanguito, Puerto Rico.
Sonia Manzano Makes Endearing Impression on Pensacola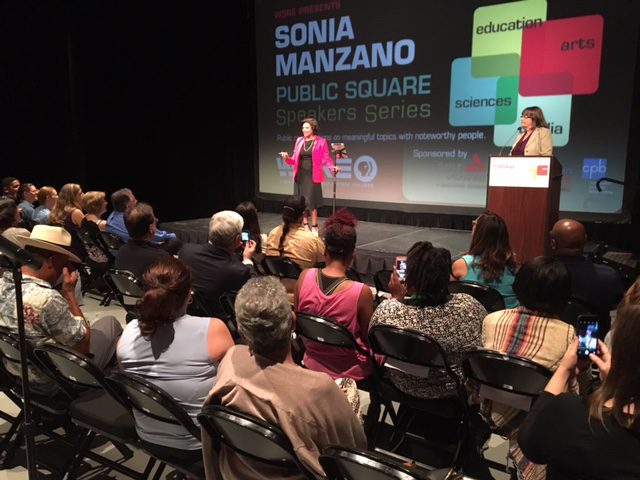 PENSACOLA, Fla.—Sonia Manzano, best known as "Maria" on the children's television show, "Sesame Street," was in Pensacola on September 13. During her visit, the Emmy Award winning writer and actor visited with local preschool and kindergarten students, then later was presented at a public event to speak about her life, career and books. Her visit was organized by WSRE-TV, the Gulf Coast's Public Broadcasting Station.
Manzano played Maria on "Sesame Street" for 44 years until she retired from the show in 2015 as one of its most recognizable faces and a role model for generations of young girls and women. Television's first Latina leading lady, she won 15 Emmy awards for her writing the on the iconic children's show, was nominated twice for her acting, and received the Emmy Award for Lifetime Achievement this year. Her memoir, "Becoming Maria: Love and Chaos in the South Bronx," and latest children's book, "Miracle on 133rd Street," were released last year. She also authored the young adult novel, "The Revolution of Evelyn Serrano."
The "Sesame Street" star visited preschool and kindergarten students at Ensley Elementary School which is considered to be an underserved school, and many of its students speaking English as a second language.
She also read from two of her children's books, "A Box Full of Kittens" and "No Dogs Allowed." Her visit was arranged in order to help spotlight the importance of early learning.
Following the school visit, the public was invited to hear Manzano speak at the Jean & Paul Amos Performance Studio located on the Pensacola State College campus Manzano spoke about how educational children's television has evolved and the impact of how children are depicted on TV, and she shared stories about her upbringing in a Puerto Rican family in South Bronx and her career on the cast of "Sesame Street."
Manzano's parents are from El Fanguito, Puerto Rico.
[adrotate group="1"]