Puerto Rico Se Levanta: Artista local escribe una canción de esperanza para Puerto Rico
PENSACOLA,Fla.– Como la mayoría de nosotros, el sentimiento de temor e incredulidad venció a Rickyto Marrero por la noticia de la devastación causada por el huracán María en la isla de Puerto Rico. El silencio subsiguiente de una nación entera oscurecida era casi demasiado para soportar.
Para muchos, la inclinación natural a ayudar se inició poco después. Para Rickyto, que nació y se crió en Bayamón, esa inclinación llegó en forma de expresión que él sabe mejor: la música.
Puerto Rico Se Levanta es el nombre de la canción que escribió. Él dice que espera que la canción motive a la gente de Puerto Rico para superar la devastación y recuperarse aún más fuerte.
"Hice esta canción como un regalo para mi gente. Solo quiero que mi gente sepa que no están solos. Estamos con ellos," dijo Rickyto.
Una mezcla de emociones, dijo, pasó por su mente y escribió las letras de la canción.
"Niños sin educación, sin comida. Mi gente cantando, llorando, sonriendo en medio de esta crisis. Una gran cantidad de sentimientos de mezcla," dijo.
La mayoría de la familia de Rickyto vive en Puerto Rico, incluidos sus abuelos, primos, tías y tíos. Él dice que algunos todavía no tienen luz. Otros han perdido sus hogares.
"Pero agradezco a Dios que están sanos y bien," dijo Rickyto.
Rickyto interpretará "Puerto Rico Se Levanta" en vivo en el Festival Latino de Pensacola el domingo 5 de noviembre en un homenaje coreografiado a la gente de Puerto Rico y su gente. El público está invitado a asistir y participar. La entrada al festival es gratuita y los suministros de socorro serán recogidos en el evento por el camión de comida Joe's Caribe.
La canción está disponible en YouTube que se puede buscar como Rickyto the Melody Puerto Rico Se levanta. Rickyto también enviará por correo electrónico la canción a cualquiera que lo solicite a través de su página de fans en Facebook, Rickyto The Melody, página personal o DM en Instagram @Rickytothemelody.
Puerto Rico Se Levanta: Local artist writes a song of hope for Puerto Rico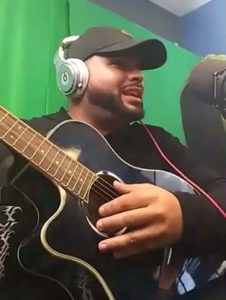 PENSACOLA, Fla.—Like most of us, the feeling of dread and disbelief overcame Rickyto Marrero as the news of the devastation caused by Hurricane Maria on the island of Puerto Rico. The subsequent silence of an entire nation blacked out was almost too much to bear.
For many, the natural inclination to help kicked in shortly after. For Rickyto, who was born and raised in Bayamon, that inclination came in the form of expression he knows best: music.
Puerto Rico Se Levanta is the name of the song he wrote. He says he hopes the song will motivate people of Puerto Rico to overcome the devastation and bounce back even stronger.
"I made this song as a gift for my people. I just want my people to know that they are not alone. We are with them," Rickyto said.
A mix of emotions, he said, went through his mind and he wrote the lyrics for the song.
"Kids without education, without food. My people singing, crying, smiling in the middle of this crisis. A lot of mixing feelings," he said.
Most of Rickyto's family live in Puerto Rico including his grandparents, cousins, aunts and uncles. He says some are still without power. Others have lost their homes.
"But I thank God they are healthy and okay," Rickyto said.
Rickyto will perform "Puerto Rico Se Levanta" live at the Latino Festival in Pensacola on Sunday, November 5 in a choreographed tribute to the people of Puerto Rico and its people. The public is invited to attend and participate. Admission to the festival is free and disaster relief supplies will be collected at the event by Joe's Caribe food truck.
The song is available on YouTube searchable as Rickyto the Melody Puerto Rico Se levanta. Rickyto will also email the song to anyone who requests it via his Facebook fan page, Rickyto The Melody, personal page or DM on Instagram @Rickytothemelody.