Reclutamiento de Cadetes del Depertamento de Bomberos de la Ciudad de Pensacola
PENSACOLA, Fla.—"En el pasado, muchos de nuestros nuevos empleados han sido de fuera de la ciudad y tan pronto como una posición se abre más cerca de su casa, se van", dijo el Administrador de la Ciudad de Pensacola Eric Olson. "Nuestra esperanza sería contratar de nuestra propia area", dijo Olson.
Los aplicantes para Cadete de Bombero deben de tener 18 años de edad, y tener un diploma de escuela secundaria o equivalente. Los aplicantes deben poseer una licencia de conducir y deben estar libres del uso de tabaco o productos de tabaco por un (1) año antes de la aplicación. El período de aplicación cerrará el 25 de noviembre a las 11:59 pm.
Los Cadetes de Bomberos recibirán una tarifa horaria a tiempo completo de $8.68 con seguro y beneficios. Además, los cadetes también asistirán al Fire Academy sin costo alguno para ellos y una vez completada con éxito el entrenamiento serán elegibles para una posición de bombero.
     Los aplicantes pueden obtener más información poniéndose en contacto con el Pensacola Fire Depertment Assistant Fire Chief, Greg Redding, al 436-3831. Para aplicar, visite www.pensacolacityjobs.com a partir del viernes, 11 de noviembre, a las 4 pm.
City of Pensacola Fire Department Recruiting Cadets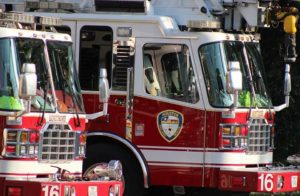 PENSACOLA, Fla.— "In the past, a lot of our new hires have been from out of town and as soon as a position opens up closer to their home, they leave," said Pensacola City Administrator Eric Olson. "Our hope would be to hire in our own backyard," Olson said. 
 Fire Cadet applicants must be 18 years old, and have a high school diploma or equivalent. Applicants must possess a driver's license and must have been free from the use of tobacco or tobacco products for one (1) year prior to application. The application period will close November 25, at 11:59 pm.
 Fire Cadets will receive a full time hourly rate of $8.68 with insurance and benefits. In addition, cadets will also attend the Fire Academy at no cost to them and upon successful completion of the training will be eligible for a firefighter position.
Applicants can learn more by contacting Pensacola Fire Department Assistant Fire Chief Greg Redding at 436-3831. To apply, visit www.pensacolacityjobs.com beginning on Friday, November 11, at 4 pm.