Popular taqueria abre segunda ubicación
PENSACOLA, Fla., – Tacos El Amigo ha abierto una segunda ubicación en 9322 N Palafox St, Pensacola, FL 32534 adyacente a CVS en la esquina de Palafox Street y Nine Mile Road.
El propietario, Mauro Ceda, abrió su primera ubicación en Tippin Avenue en 2018. Criado en la Ciudad de México, Ceda dice que ha aprendido al trabajar en la cocina durante 16 años a servir los alimentos que le gustan y escuchar los comentarios. Él mismo prepara la comida, especialmente al pastor y otras carnes marinadas.
Cuando se le preguntó a qué atribuye su éxito, Ceda dijo: "Creo que es el estilo original de al pastor. Es el más auténtico de México. Se cocina en el "trompo", [asador vertical] como lo hago en casa, y es lo que le gusta a la mayoría de la gente ".
Ambas ubicaciones de Tacos El Amigo ofrecen un menú similar que incluye tacos al pastor, asada, campechano, chorizó y pollo a $2.50. Los tacos de lengua y tripas también están disponibles por $3 cada uno. Los fanáticos saben que su menú incluye mucho más que tacos. También se encuentran disponibles quesadillas, flautas, tortas y alambre. ¡Los domingos, menudo!
Estas sabrosas opciones han hecho de la taquería un punto de acceso para los amantes de los tacos que buscan los auténticos sabores de México. Ambas ubicaciones están abiertas seis días a la semana de 11 a.m. a 8 p.m. Los domingos cierran a las 5 p.m. La nueva ubicación de Palafox cierra los miércoles y la de Tippin cierra los martes.
Popular taqueria opens second location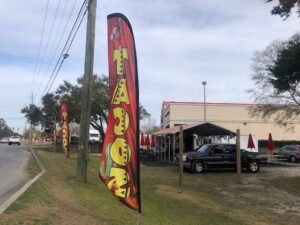 PENSACOLA, Fla. – Tacos El Amigo has opened a second location at 9322 N Palafox St, Pensacola, FL 32534 adjacent to the CVS at the corner of Palafox Street and Nine Mile Road.
Owner, Mauro Ceda, opened his first location on Tippin Avenue in 2018. Raised in Mexico City, Ceda says he has learned from working in the kitchen for 16 years is to serve the foods he likes and listening to feedback. He prepares the food himself, especially al pastor other marinated meats.
When asked what he credits for his success, Ceda said, "I think it's the original style of al pastor. It's the most authentic from Mexico. It is cooked on the 'trompo,' [vertical rotisserie] how I make it at home, and it is what most people like."
Both Tacos El Amigo locations feature a similar menu including $2.50 tacos al pastor, asada, Campechano, chorizó and chicken. Tacos de lengua and tripas are also available for $3 each. Fans know their menu includes much more than tacos. Quesadillas, flautas, tortas and alambre are also available. On Sundays, menudo!
These savory options have made the taqueria a hotspot for taco lovers seeking authentic flavors of Mexico. Both locations are open six days each week from 11 a.m. until 8 p.m. On Sundays they close at 5 p.m. The new Palafox location is closed on Wednesdays and the Tippin location is closed on Tuesdays.
[adrotate group="1"]