Organización de Pensacola busca ayuda para alimentar a personas hambrientas en Perú
PENSACOLA, Fla. – Reimagine Worldwide es una organización benéfica sin fines de lucro en Pensacola que se enfoca en ayudar a los pobres en Perú. Más específicamente, los esfuerzos se concentran en la construcción de viviendas para familias en Santa Rosita, una zona densamente poblada y plagada de pobreza extrema. Noticias recientes de la comunidad revelaron que los impactos de COVID han elevado la terrible situación para muchos en Santa Rosita y la cercana Jicamara. La pandemia ha creado una situación de desnutrición e incluso hambruna, según el equipo de Reimagined Worldwide.
"Muchos ancianos de la comunidad han perdido masa muscular, por lo que el ministerio comprará proteínas, vitaminas, calcio, vitaminas prenatales, etc.," dijo la fundadora Linda English en una publicación de Facebook. "Además, muchas personas necesitan una visita al hospital y / o medicamentos, pero no tienen el dinero para nada de esto."
Aunque los objetivos principales de la organización son construir 13 casas prefabricadas por año, encuentran que ayudar a brindar atención médica y nutrición es una necesidad más inmediata y urgente. Humildemente pero con urgencia se solicitan donaciones a la organización. El valor del dólar estadounidense es aproximadamente tres veces el sol peruano, por lo que ninguna donación es demasiado pequeña.
Las donaciones se pueden hacer a través de reimaginworldwide.org o a Linda-English en Venmo. Reimagine Worldwide es una organización benéfica sin fines de lucro 501 (c) 3 designada federalmente y exenta de impuestos que hace que las donaciones sean deducibles de impuestos.
Pensacola organization seeks help to feed starving people in Peru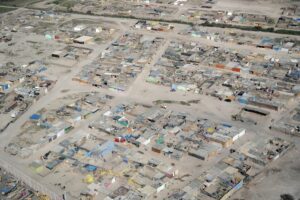 PENSACOLA, Fla. – Reimagine Worldwide is a non-profit charity based in Pensacola focused on helping the poor in Peru. More specifically, efforts are concentrated on building homes for families in Santa Rosita, a densely populated area riddled with extreme poverty. Recent news from the community revealed the impacts of COVID have elevated the dire situation for many in Santa Rosita and nearby Jicamara. The pandemic has created a situation of malnutrition and even starvation, according to the Reimagined Worldwide team.
"Many of the older community members have lost muscle mass so the ministry will be purchasing protein, vitamins, calcium, prenatal vitamins, etc.," said founder Linda English in a Facebook post. "Also, many people are in need of a hospital visit and/or medication but don't have the money for any of this."
While the organization's main objectives to build 13 prefabricated homes per year, they find help provide health care and nutrition a most immediate and dire need. An urgent request for donations to the organization is humbly requested. The value of the American dollar is about three times the Peruvian sol, so no donation is too small.
Donations can be made through reimaginworldwide.org or to Linda-English on Venmo. Reimagine Worldwide is a federally designated 501(c)3 tax-exempt non-profit charity making donations tax-deductible.
[adrotate group="1"]