Oficiales de la OCSO localizan a un hombre desaparecido
MARY ESTHER, Fla. – Los oficiales del Okaloosa County Sheriff's Office pudieron localizar a un hombre desaparecido con Alzheimer en aproximadamente cuatro minutos esta mañana, gracias al hecho de que era un cliente de "Project Lifesaver."
Los oficiales respondieron a un hogar en Brian Circle en Mary Esther alrededor de las 11 am después de recibir un informe de un hombre desaparecido de 70 años que había sido visto por última vez unos quince minutos antes en su patio trasero.
Una vez que se enteraron de que se había inscrito en Project Lifesaver, pudieron usar el equipo de búsqueda para ubicarlo en un área a unas 1000 yardas de su casa.
La tecnología Project Lifesaver utiliza un dispositivo de rastreo para captar las señales de un transmisor de radio personalizado colocado en el brazo o la pierna de una persona. Puede ayudar a reducir drásticamente los tiempos de búsqueda para personas con autismo, demencia o cualquier trastorno cognitivo que corra el riesgo de alejarse de su hogar y posiblemente no pueda proporcionar información sobre su identidad o dirección. Ese tiempo ahorrado puede correlacionarse con vidas salvadas en algunas situaciones.
Para obtener más información, vaya a https://projectlifesaver.org o comuníquese con Sgt. Jason Fulghum en la OCSO.
OCSO deputies locate missing man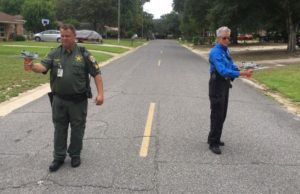 MARY ESTHER, Fla. – Okaloosa County Sheriff's Office Deputies were able to locate a missing man with Alzheimer's within approximately four minutes this morning, thanks to the fact he was a "Project Lifesaver" client.
Deputies responded to a home on Brian Circle in Mary Esther around 11 a.m. after getting a report of a missing 70 year old man who had last been seen about fifteen minutes earlier in his back yard.
Once they learned he was signed up for Project Lifesaver, they were able to use search equipment to locate him in an area about 1000 yards from his home.
Project Lifesaver technology uses a tracking device to pick up signals from a personalized radio transmitter placed on a person's arm or leg. It can help drastically reduce search times for individuals with autism, dementia, or any cognitive disorders who are at risk of wandering away from home and potentially being unable to provide information on their identity or address. That saved time can correlate to saved lives in some situations.
For more information go to https://projectlifesaver.org or contact Sgt. Jason Fulghum at the OCSO.
[adrotate group="1"]