Nuevo negocio: sala de eventos abre en Racetrack Road
Por Heather Osbourne. Cortesía de Northwest Florida Daily News, publicado el 25 de diciembre de 2018
FORT WALTON BEACH — Perfect Day Planning Events & Hall Rental es uno de los espacios más nuevos de la zona para celebrar bodas, banquetes y otros eventos especiales.
Samuel De La Rosa, junto con su hijo Alex de 15 años, celebró la gran inauguración del salón la semana pasada. De La Rosa, un DJ profesional, decidió abrir la sala en el 21 Racetrack Road N.E. después de notar la necesidad de espacios de eventos asequibles en el noroeste de la Florida.
"Queríamos traer algo nuevo a la comunidad," dijo De La Rosa. "Queremos que este sea un lugar para cualquier tipo de evento, desde bodas hasta quinceañeras y cosas así."
"Quería que fuera algo muy limpio," agregó Alex. "Había visto pasillos con un montón de fotos en la pared, pero quería que fuera un lugar donde la gente pudiera hacer las suyas."
El sueño de De La Rosa de abrir el negocio fue casi truncado, dijo, luego de que fue golpeado por un conductor ebrio mientras caminaba en Biloxi, Mississippi. Fue entonces cuando su hijo Alex se acercó para asegurarse de que la apertura se mantuviera en el horario previsto.
"No pude hacer muchas cosas por el accidente," dijo De La Rosa, señalando su pierna. "Estoy orgulloso de lo que hizo. Es un negocio familiar. Nos ayudamos mutuamente."
Ahora, el joven de 15 años continúa trabajando en la sala, encargado de preparar todo para los eventos. De La Rosa, aún recuperándose de sus heridas, se encarga del trabajo de oficina.
Perfect Day Planning Events and Hall ofrece varios paquetes, comenzando solo con el alquiler de la sala. El precio para alquilar la sala de 9 a.m. a 1 a.m. en un sábado es de aproximadamente $550.
Los clientes pueden agregar un paquete de decoración y DJ si lo prefieren. El precio de la sala, la música y la decoración es de aproximadamente $2,500.
New Business: Event hall opens on Racetrack Road
By Heather Osbourne. Courtesy of Northwest Florida Daily News, published Dec. 25, 2018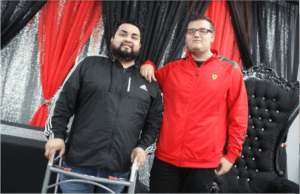 FORT WALTON BEACH — Perfect Day Planning Events & Hall Rental is one of the area's newest spaces to host weddings, banquets and other special events.
Samuel De La Rosa, along with his 15-year-old son Alex, celebrated the hall's grand opening last week. De La Rosa, a professional DJ, decided to open the hall at 21 Racetrack Road N.E. after noticing a need for affordable event spaces in Northwest Florida.
"We wanted to bring something new to the community," De La Rosa said. "We want this to be a place for any kind of event, from weddings to quinceaneras and things like that."
"He wanted it to be something very clean looking," Alex added. "He'd seen halls with a bunch of pictures on the wall, but he wanted it to be a place people could make their own."
De La Rosa's dream of opening the business was almost squashed, he said, after he was hit by a drunk driver while walking in Biloxi, Mississippi. That's when his son Alex stepped up to make sure the opening stayed on schedule.
"I couldn't do a lot of stuff because of the accident," De La Rosa said, pointing to his casted leg. "I'm proud of what he did. It's a family business. We help each other out."
Now the 15-year-old continues to work at the hall, charged with getting everything ready for the events. De La Rosa, still recovering from his injuries, handles the office work.
Perfect Day Planning Events and Hall offers several packages, starting with just the hall rental. The price to rent the hall from 9 a.m.-1 a.m. on a Saturday runs at approximately $550.
Customers can add on a decor and DJ package if preferred. The price for the hall, music and decor runs at approximately $2,500.
[adrotate group="1"]