No Te Pierdas el Festival Latino Anual en Pensacola

El Festival Latino 2016 en Pensacola con cosas nuevas e interesantes para ver y hacer. La celebración anual está programada para el domingo 6 de noviembre en las calles Belmont y Devilliers cerca de la centro de Pensacola.

Este año, el Festival Latino cerrará un fin de semana de cuatro días llenos de tradiciones culturales, comida, música y la unidad de la comunidad como nunca lo has visto antes. Todo comienza con la observancia del Día de los Muertos en el First City Arts Center el jueves, 3 de noviembre se invita a los participantes en la observancia tradicional mexicana que comienza a las 5:30 p.m. Comida típica mexicana, prácticas rituales ancestrales y música en vivo continuarán hasta 10:00 p.m.

A continuación, el baile y el festejo comienza en el Block Festival en los vecindarios de Belmont y De Villiers. Allí, música en vivo y Este festival es una celebración de dos días de música y danza, cultura y arte, cine, y comida, y el patrimonio, que culmina en una infusión de la historia y la educación.

El gran final es el Festival Latino anual que llenará las calles de Belmont y Devilliers con los sonidos vigorizantes de merengue, cumbia, salsa, norteño, reggaeton y mas que agitaran los edificios del barrio histórico. Artistas e invitados especiales y lugares de interés destacados se darán a conocer en la próxima edición de La Costa Latina disponible desde 21-23 de octubre.

Vendedores y patrocinadores, por favor vayan a https://latinomediainc.com/latino-festival/ para obtener información de registro de proveedores. Más música, más comida, más Usted, más Estados Unidos! Eso es lo que hace que el Festival Latino anual sea tan especial. No se lo pierdan!

Don't Miss the Annual Latino Festival in Pensacola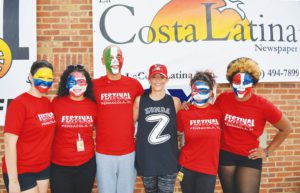 The 2016 Latino Festival in Pensacola with new and exciting things to see and do. The annual celebration is scheduled for Sunday, November 6 at Belmont and DeVilliers Streets near Downtown Pensacola.

This year, the Latino Festival will close out a four-day weekend filled with cultural traditions, food, music, and community unity like you've never seen before. It all starts with the Day of the Dead observance at First City Arts Center on Thursday, November 3. Visitors are invited to participate in the traditionally Mexican observance beginning at 5:30 p.m. Typical Mexican food, ancestral ritual observances and live music will continue until 10 p.m.

Next, the dancing and revelry begins at the Back on the Block Festival at the Belmont and DeVilliers neighborhood. There, live music and This festival is a two day celebration of music and dance, culture and arts, film, food, and heritage which climaxes into an infusion of history and education.

The grand finale is the annual Latino Festival which will fill the Belmont and DeVilliers Streets with the invigorating sounds of merengue, cumbia, salsa, norteño, reggaeton and more shaking up the buildings of the historical neighborhood. Artists and special guests and featured attractions will be announced in the next edition of La Costa Latina available October 21-23.

Sponsors, please go to https://latinomediainc.com/latino-festival/ for vendor registration information. More music, more food, more YOU, more US! That's what makes the annual Latino Festival so special. Don't miss it!
[adrotate group="1"]