Más de 1 millón de libras de alimentos distribuidos en el condado de Walton
CONDADO DE WALTON, Fla. – El Centro de Alcance Comunitario Matrix alcanzó un hito récord el mes pasado, alcanzando más de un millón de libras de alimentos distribuidos a través de sus esfuerzos de alimentación comunitaria COVID-19. Manteniéndose fiel a su misión, Matrix COC respondió de inmediato a la llamada de servicio y organizó numerosas distribuciones en 27 sitios de distribución de alimentos en los últimos nueve meses. Desde el inicio de COVID-19, se han donado a la comunidad más de 36,000 cajas de comida individuales llenas de frutas frescas, verduras, carne y productos lácteos para ayudar a complementar las despensas.
"Este virus ha afectado a personas de todos los orígenes y no ha visto fronteras," dijo Candy Nowling, directora ejecutiva de Matrix COC. "Nuestra capacidad para brindar una sensación de normalidad durante este tiempo y complementar las despensas de nuestra comunidad con opciones frescas y saludables es una verdadera bendición. Sin la coordinación de nuestro dedicado personal, voluntarios y el corazón y las manos de nuestros socios comunitarios, no hubiéramos hecho realidad este objetivo."
Hace casi una década, Matrix COC abrió sus puertas para atender las necesidades insatisfechas del condado de Walton. Lo que comenzó como una operación a pequeña escala, se ha convertido en un sistema de apoyo financiero al igual que de ropa, alimentos, vivienda y emocional a gran escala para el área del condado de Walton. Además de los servicios tradicionales al cliente, Matrix se desempeña como jefe de la rama de Servicios Humanos dentro del Manejo de Emergencias del Condado de Walton, ayudando con todas las necesidades de alimentación, refugio y donación de la comunidad durante un tiempo de crisis.
"Hasta que se satisfagan las necesidades y nuestra comunidad haya alcanzado un sentido de normalidad, continuaremos ayudando a nuestros vecinos," dijo Nowling.
Destin Harvest, la Junta de Comisionados del Condado de Walton, Manejo de Emergencias del Condado de Walton, Distrito Escolar del Condado de Walton, Borden's, Farmers to Families, Crop Drop, Seed to Table e innumerables voluntarios de todo el Condado de Walton son reconocidos por el éxito de alimentar a la comunidad.
More than 1 million pounds of food distributed in Walton County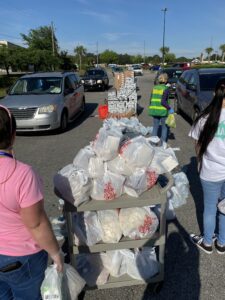 WALTON COUNTY, Fla. – The Matrix Community Outreach Center hit a record-breaking milestone last month, reaching over one million pounds of food distributed through its COVID-19 community feeding efforts. Remaining true to their mission, the Matrix COC responded immediately to the call of service and organized numerous distributions across 27 food distribution sites in the last nine months. Since the onset of COVID-19, over 36,000 individual meal boxes filled with fresh fruits, vegetables, meat and dairy products have been donated to the community to help supplement pantries.
"This virus has affected individuals from all backgrounds and has seen no boundaries," said Candy Nowling, Executive Director for the Matrix COC. "Our ability to provide a sense of normalcy during this time and supplement our community's pantries with fresh, healthy options is a true blessing. Without the coordination of our dedicated staff, volunteers and the working hearts and hands of our community partners, we would have not made this goal a reality."
Almost a decade ago, the Matrix COC opened its doors to serve the unmet needs of Walton County. What started as a small-scale operation, has developed into a full-scale financial, clothing, food, housing and emotional support system for the Walton County area. In addition to traditional client services, the Matrix serves as head of the Human Services branch within Walton County Emergency Management, assisting with all community feeding, sheltering and donation needs during a time of crisis.
"Until the needs are met and our community has reached a sense of normalcy, we will continue to provide for our neighbors," Nowling said.
Destin Harvest, Walton County Board of County Commissioners, Walton County Emergency Management, Walton County School District, Borden's, Farmers to Families, Crop Drop, Seed to Table and countless volunteers from all over Walton County are credited for the success of feeding the community.  
[adrotate group="1"]