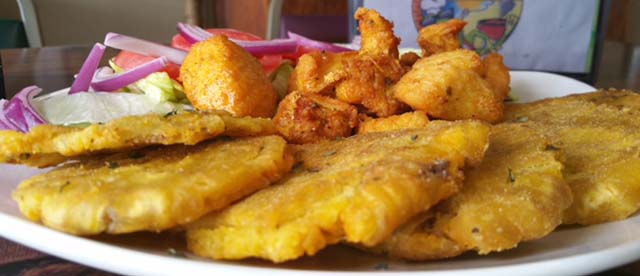 Negocio de propiedad latina crece con nuevo restaurante en Pensacola
PENSACOLA, Fla.—Donde encontrar comida puertorriqueña en Pensacola se ha hecho esperar desde hace mucho tiempo, pero la espera finalmente ha terminado! Los propietarios del popular camión de comida, Joe's Caribe, han abierto un restaurante take-out (solo para llevar) en el 1350 S. Blue Angel Parkway. Su gran apertura está programada para el sábado, 23 de septiembre de 11 a.m. hasta las 5 p.m. Los horarios regulares son de lunes a jueves de 10 a.m. hasta las 8:30 p.m., viernes y sábados de 10 a.m. hasta las 9:30 p.m. y cerrado los domingos.
Los fundadores, José y Jessica Pérez, se enorgullecen de ser neoyorquinos (puertorriqueños que crecieron en Nueva York). Se mudaron a Pensacola en el 2015 con sus hijos Malik, Trinity y Aliyah. Como muchos, los Pérez vieron el deseo -algunos podrían decir "necesidad "- de comida puertorriqueña en el Panhandle de Florida, y crearon una solución.
El camión de comida Joe's Caribe fue fundado en el 2016, que se ha visto alrededor de Pensacola y en los eventos locales favoritos de camiones de comida. Una combinación de la pasión de Joe's por cocinar platos de inspiración latina y la experiencia empresarial de Jessica ha creado la receta perfecta para un negocio en crecimiento.
"La gente está dejando comentarios en nuestra página de Facebook diciendo que Joe's Caribe tiene algunos de los mejores auténticos alimentos del Caribe en el área!" Jessica dijo con gratitud.
El menú incluye los favoritos del Caribe como mofongo, jerk chicken, empanadas, sándwiches cubanos y pernil con menús que van desde $3 a $16.
Joe's Caribe es un negocio de propiedad de latinos admirada en la comunidad de la Costa del Golfo, ya que están comprometidos a servir a su gente. Los Pérez no sólo ofrecieron su ubicación comercial como lugar de entrega para una reciente colección de donaciones para la ayuda por el huracán, sino que entregaron los artículos donados al camión de entrega en el norte de Pensacola ellos mismos.
Su dirección de la página de Facebook es facebook.com/JoesCaribe.
Latino own business expands with new restaurant in Pensacola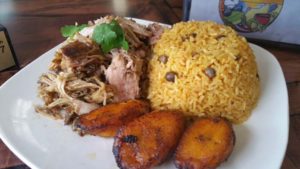 PENSACOLA, Fla.—Where to find Puerto Rican food in Pensacola has been long awaited, but the wait is finally over! The owners of the popular food truck, Joe's Caribe, have opened a take-out restaurant at 1350 S. Blue Angel Parkway. Their grand opening is schedule for Saturday, September 23 from 11 a.m. until 5 p.m. Regular business hours are Monday through Thursday from 10 a.m. until 8:30 p.m., Fridays and Saturdays from 10 a.m. until 9:30 p.m. and closed on Sundays.
Founders, Jose and Jessica Perez, are proud Newyoricans (Puerto Ricans who grew up in New York). They moved to Pensacola in 2015 with their children Malik, Trinity and Aliyah. Like many, the Perezes saw the desire – some might say "need" – for Puerto Rican food in the Florida Panhandle, and they created a solution. 
Joe's Caribe food truck was founded in 2016, which has been seen all around Pensacola and a favorite at local food truck events. A combination of Joe's passion for cooking Latino-inspired dishes and Jessica's business savvy has created the perfect recipe for a growing business.
 "People are leaving reviews on our Facebook page saying Joe's Caribe has some of the best authentic Caribbean food in the area!" Jessica said with gratitude.
The menu includes Caribbean favorites like mofongo, jerk chicken, empanadas, Cuban sandwiches and pernil with menu items ranging from $3 to $16.
Joe's Caribe is as much an admired Latino-owned business in the Gulf Coast community as they are committed to serving its people. The Perez not only offered their business location as a drop-off site for a recent collection of hurricane relief donations, but they delivered the donated items to the delivery truck in North Pensacola themselves.
Their Facebook page address is facebook.com/JoesCaribe.
[adrotate group="1"]