Encendedor de cigarrillos con forma de pistola causó temor en autobús escolar
CONDADO DE OKALOOSA, Fla.–La Oficina del Sheriff del Condado de Okaloosa respondió después de que un encendedor de cigarrillos con forma de pistola causara un susto en un autobús escolar del Condado de Okaloosa poco después de las 3 p.m. el 8 de mayo. Un adolescente que vio lo que parecía ser un arma de otro estudiante de la Escuela Intermedia Bruner se había contactado con un padre, quien a su vez llamó al 9-1-1.
Las autoridades de OCSO y oficiales del Departamento de Policía de Fort Walton Beach estaban en la escena rápidamente ya que se realizó una parada de tráfico cerca de la intersección de Beal Parkway y Memorial Parkway.
Las autoridades que respondieron dicen que resultó ser un encendedor de cigarrillos, pero enfatizan que la persona que llamó hizo lo correcto al asegurarse de que la situación fuera denunciada a la policía y se solucionara rápidamente.
Se determinó que no había amenaza y que todos los estudiantes estaban a salvo.
Gun-shaped cigarette lighter causes scare on school bus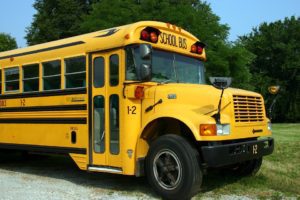 OKALOOSA COUNTY, Fla.—The Okaloosa County Sheriff's Office responded after a cigarette lighter shaped like a gun caused a scare on an Okaloosa County school bus shortly after 3 p.m. on May 8. A teen who saw what appeared to be a gun on another student from Bruner Middle School had contacted a parent, who in turned called 9-1-1.
OCSO deputies and officers with the Fort Walton Beach Police Department were on the scene rapidly as a traffic stop was conducted near the intersection of Beal Parkway and Memorial Parkway.
Responding deputies say it turned out to be a cigarette lighter, but emphasize that the caller did the right thing by making sure the situation was reported to law enforcement and quickly addressed.
It was determined there was no threat and all students were safe.
[adrotate group="1"]