Guitarista Pavlo en Pensacola
PENSACOLA, Fla. – El artista internacional de grabación Pavlo Simtikidis traerá su música mediterránea a Pensacola el domingo 25 de febrero a las 6 p.m. para un concierto íntimo en el WSRE Jean & Paul Amos Performance Studio en Pensacola State College.
En apoyo de la Fundación WSRE-TV, Pavlo ofrecerá un paquete de $125 que incluye dos pases para un encuentro previo al concierto a las 4 pm, dos asientos de la sección delantera para el concierto y un combo de CD / DVD de su especial de PBS , "Pavlo: Live in Kastoria". Para comprar este paquete Meet-and-Greet de WSRE, vaya a wsre.org/Pavlo o póngase en contacto con Mary McClellan al 850-484-1240.
Los boletos de admisión general también están disponibles por $30 y los pueden comprar en línea "online" en pavlo.com.
En el lapso de 20 años de su carrera ha lanzado 11 álbumes de su propia música más dos proyectos de colaboración, incluyendo "Guitarradas" de 2015 con Remingo Pereira y "Trifecta" de 2009 con los maestros guitarristas Rik Emmett y Oscar López. Pavlo nació en Toronto hijo de padres griegos. Se ha hecho un nombre al ofrecer una mezcla de ritmos griegos, flamencos, latinos y balcánicos, entre ellos, envueltos en pop contemporáneo. Ha interpretado su música "mediterránea" en todo el mundo para la realeza incluyendo al príncipe Carlos y otros artistas como José Feliciano, Jon Secada, Olivia Newton-John y The Tenors.
Guitarist Pavlo in Pensacola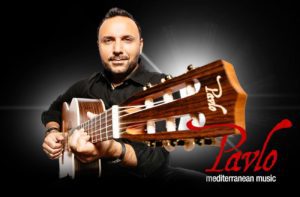 PENSACOLA, Fla. ― International recording artist Pavlo Simtikidis is bringing his Mediterranean music to Pensacola on Sunday, Feb. 25 at 6 p.m. for an intimate concert in the WSRE Jean & Paul Amos Performance Studio at Pensacola State College.
In support of the WSRE-TV Foundation, Pavlo is offering a $125 package that includes two passes for a pre-concert meet-and-greet at 4 p.m., two front section seats for the concert and a CD/DVD combo of his PBS special, "Pavlo: Live in Kastoria." To purchase this meet-and-greet package from WSRE, go to wsre.org/Pavlo or contact Mary McClellan at 850-484-1240.
General admission tickets are also available for $30 and can be purchased online at pavlo.com.
Over the span of his 20-year career, Pavlo has released 11 albums of his own music, plus two collaborative projects, including 2015's "Guitarradas" with Remingo Pereira and 2009's "Trifecta" with fellow guitar masters Rik Emmett and Oscar Lopez.
Born in Toronto to Greek parents, Pavlo has made a name for himself by offering a blend of Greek, flamenco, Latin and Balkan flavors wrapped in contemporary pop. He has performed his "Mediterranean" music all around the world, for royalty including Prince Charles, and with artists such as José Feliciano, Jon Secada, Olivia Newton-John and The Tenors.