Florida House Bill Restringe el Negocio con Venezuela
FLORIDA—La oficina del gobernador de la Florida dio a conocer un anuncio del gobernador que "El 25 de enero, el gobernador Rick Scott emitió una declaración después de que la Cámara de Representantes de la Florida votó unánimemente en apoyo de HB 359. Este proyecto de ley adelanta la propuesta del gobernador Scott de prohibir estrictamente al Estado de la Florida, incluidas todas las agencias estatales, en inviertir en cualquier compañía que haga negocios con el opresivo gobierno del dictador venezolano Nicolás Maduro."
El anuncio del Gobernador Scott de su propuesta publicada en octubre del 2017 siguió a su reunión con los líderes mundiales para la Cumbre Latinoamericana 2017.
En el anuncio, el Gobernador Scott dijo: "En Florida, hemos sido absolutamente claros: el brutal gobierno de Nicolás Maduro debe terminar y el pueblo de Venezuela debe tener libertad total y democracia ahora," en su anuncio del 2017. "Déjenme ser claro, esta propuesta apunta directamente al régimen de Maduro, no a las empresas que proporcionan bienes y servicios muy necesarios para el pueblo venezolano." Florida sigue apoyando al pueblo de Venezuela y se mantiene firme contra cualquier gobierno que oprima a su pueblo y niega la libertad y los derechos humanos."
Luego de la votación, Scott también dijo, "Florida se enorgullece de ser una mezcla increíble de culturas y el hogar de una vibrante población venezolana. Pero lamentablemente, en los últimos años, hemos visto que las condiciones y la situación en Venezuela se deterioran debido a un dictador brutal. El régimen de Maduro está lastimando y oprimiendo a las familias venezolanas cada día más y he sido absolutamente claro de que el estado de la Florida no lo tolerará. El año pasado, propuse, y todo el Gabinete de la Florida apoyó, una prohibición a las inversiones estatales que benefician al régimen de Maduro. Espero con interés que el senado siga avanzando en este proyecto de ley y lo firme pronto."
El 29 de enero, el gobernador Rick Scott se reunió con líderes de la comunidad venezolana, incluidos magistrados exiliados de la Corte Suprema venezolana, para analizar formas de seguir ayudando a la población de Venezuela a ganar la libertad y la democracia.
Florida House Bill Restricts Business with Venezuela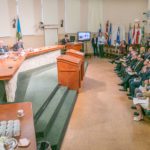 FLORIDA—The Florida Governor's office released an announcement from the governor that "on January 25, Governor Rick Scott issued a statement after the Florida House of Representatives unanimously voted in support of HB 359. This bill advances Governor Scott's proposal to strictly prohibit the State of Florida, including all state agencies, from investing in any company that is doing business with Venezuelan dictator Nicolas Maduro's oppressive government."
Governor Scott's announcement of his proposal released in October 2017 followed his meeting with world leaders for the 2017 Latin American Summit.
In the announcement, Governor Scott said, "In Florida, we have been absolutely clear – the brutal government of Nicolas Maduro must end and the people of Venezuela must be given total freedom and democracy now," in his 2017 announcement. "Let me be clear- this proposal is aimed squarely at the Maduro regime – not businesses who provide much needed goods and services to the Venezuelan people. Florida continues to stand with the people of Venezuela and steadfast against any government that oppresses its people and denies freedom and human rights."
Following the vote, Scott also said, "Florida is proud to be an incredible melting pot and home to a vibrant Venezuelan population. But sadly, in recent years, we've seen the conditions and situation in Venezuela deteriorate because of a brutal dictator. The Maduro regime is hurting and oppressing Venezuelan families more and more each day and I have been absolutely clear that the State of Florida will not stand for it. Last year, I proposed, and the entire Florida Cabinet supported, a ban on state investments benefitting the Maduro regime. I look forward to the Senate continuing to advance this bill and signing it into law soon."
On January 29, Governor Rick Scott met with leaders from the Venezuelan community, including exiled magistrates of the Venezuelan Supreme Court, to discuss ways to continue to help the people of Venezuela gain freedom and democracy.
[adrotate group="1"]