Graduada de Estudios Internacionales de la UWF reflexiona sobre experiencias académicas y metas futuras
Por Dyzha Holland, Cortesía de University of West Florida, Facultad de Ciencias Sociales y Humanidades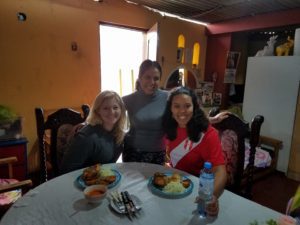 PENSACOLA, Fla. (21 dic., 2018) – Racine Frank se graduó en otoño de 2018 en el Programa de Estudios Internacionales de la UWF.
Racine Frank es una viajera, embajadora internacional (verano de 2018) y ahora graduada en la UWF en otoño de 2018 del Programa de Estudios Internacionales.
De su experiencia en la UWF, Frank dijo: "Todas mis clases en la UWF me dieron conocimiento del mundo y de la gente. Le envié muchas gracias a mi departamento y a mis profesores… Esta experiencia fue definitivamente una precursora de lo que experimentaría al internarme en la embajada."
El verano pasado, Frank realizó una pasantía con la Embajada de los Estados Unidos en Lima, Perú. Durante su pasantía, Frank dijo que nunca tuvo un momento aburrido en la ciudad. "La experiencia de estar inmerso en una cultura diferente fue maravilloso. "Un factor de cualquier cultura es el idioma, junto con la comida, la gente y su celebración del Día de la Independencia," dijo Frank.
"Trabajar para la embajada fue maravilloso y me abrió los ojos… Pude desarrollarme profesionalmente y formé parte de un gran equipo… Fue beneficioso ver los diferentes estilos de liderazgo de mis colegas, así como explorar las diferentes partes de la embajada… Esta oportunidad me hizo una mejor persona y una persona más fuerte."
Durante la pasantía de Frank, trabajó en varios proyectos que van desde la investigación, mejoras de procesos, estudios de tiempo y análisis de datos. Frank trabajó estrechamente con los oficiales del servicio exterior de los Estados Unidos para ayudar a mejorar tanto el programa de pasantías como las oportunidades de participación profesional para futuros pasantes.
El tiempo de Frank se dividió principalmente entre dos unidades diferentes en la sección consular. Por la mañana, Frank trabajó en la unidad de visas para no inmigrantes que tomaban las huellas dactilares de las personas que buscaban una visa temporal para los Estados Unidos. Frank dijo que tanto el proceso de visa permanente como el temporal son largos, pero con el proceso de visa temporal había cientos de solicitantes por día. Según Frank, esta fue su parte favorita de su pasantía porque era la primera estadounidense con la que se reunian los solicitantes cuando ingresaban a la embajada.
"Trabajar en la ventana por la mañana significaba que yo era el primer estadounidense que los solicitantes verían al ingresar a la embajada. Esta fue la oportunidad perfecta para conversar con ellos, sonreír y hacer que se sientan cómodos," dijo Frank.
Durante el tiempo en UWF, Frank desempeñó en varias posiciones de liderazgo y recibió múltiples premios.
Frank dijo que su momento más memorable en la UWF fue hablar en la convocatoria de 2018 una semana después de regresar de Perú. Frank pronunció el discurso principal, que se centró en el dicho "Vive bien, ríe a menudo, ama mucho". Declaró que estaba muy contenta de compartir su experiencia de la UWF con nuevos estudiantes entrantes y de darles la bienvenida oficialmente a la UWF.
La pasantía de Frank en Perú le dio una idea de una carrera en servicios extranjeros de los EE. UU., una carrera en la que Frank dijo que estaba interesada. El consejo de Frank para cualquiera que desee estudiar en el extranjero es ser ambicioso, concentrarse, trabajar duro y lograr metas personales.
Después de la graduación, Frank continuará trabajando para el Consejo de Diplomacia Ciudadana de la Costa del Golfo. Como oficial del programa, Frank ayuda al coordinador del programa con la programación para el Programa de Liderazgo para Visitantes Internacionales. El (IVLP, por sus siglas en inglés) es un programa de intercambio patrocinado por el Departamento de Estado de los Estados Unidos y otros programas de intercambio para profesionales y jóvenes. Los roles de Frank como miembro y como coordinación del programa contribuyen a la promoción de la diplomacia ciudadana en el noroeste de la Florida. Los objetivos futuros de Frank son servir en los Peace Corps, al mismo tiempo que se apoya la educación y el desarrollo de la juventud, y continuar las carreras en asuntos internacionales y diplomacia pública.
Frank declaró: "Trabajar en el consejo me ha permitido crecer profesionalmente en el campo que quiero desarrollar: asuntos internacionales y diplomacia pública. He tenido la oportunidad de conocer visitantes internacionales y de aprender no solo sobre su trabajo en su país, sino también sobre el trabajo que se realiza a nivel local en mi comunidad. Este trabajo es realmente gratificante."
"Cada estudiante debe aprovechar la oportunidad de estudiar en el extranjero … Creo que es una excelente manera de recordar su pasión … En el camino, aprenderá más sobre usted mismo y, en última instancia, dónde puede mejorar en la vida," dijo Frank.
UWF International Studies graduate reflects on academic experiences and future goals
By Dyzha Holland, Courtesy of University of West Florida, College of Social Sciences and Humanities
PENSACOLA, Fla. (Dec 21, 2018) – Racine Frank is a Fall 2018 UWF graduate of the International Studies Program.
Racine Frank is a traveler, international ambassador (Summer 2018) and now a Fall 2018 UWF graduate of the International Studies Program.
Of her UWF experience, Frank said, "All of my classes at UWF gave me knowledge of the world and people. I send many thanks to my department and my professors. This experience was definitely a precursor to what I would experience while interning at the embassy."
This past summer, Frank interned with the U.S. Embassy in Lima, Peru. During her internship, Frank said she never had a dull moment in the city. "The experience of being immersed in a different culture was wonderful. One factor of any culture is the language, along with the food, the people and their Independence Day celebration," said Frank.
"Working for the embassy was wonderful and eye-opening… I was able to develop professionally, and I was a part of a great team… It was beneficial to see the different leadership styles of my colleagues as well as to explore the different parts of the embassy… This opportunity made me a better person and a stronger individual."
During Frank's internship, she worked on various projects ranging from research, process improvements, time studies and data analysis. Frank worked closely with U.S. foreign service officers to help improve both the internship program and professional engagement opportunities for future interns.
Frank's time was mostly split between two different units in the consular section. In the morning Frank worked in the non-immigrant visa unit fingerprinting individuals who were seeking a temporary visa to the United States. Frank said that both permanent and temporary visa processes are lengthy, but with the temporary visa process there were hundreds of applicants a day. According to Frank, this was her favorite part of her internship because she was the first American who applicants met when they entered the embassy.
"Working at the window in the morning meant I was the first American the applicants would see entering the embassy. This was the perfect opportunity to converse with them, to smile and to make them feel comfortable" said Frank.
During her time at UWF, Frank served in several leadership positions and received multiple awards.
Frank said her most memorable moment at UWF was speaking at the 2018 Convocation a week after returning from Peru. Frank gave the senior speech, which centered around the saying "Live Well, Laugh Often, Love Much." She stated that she was very happy to share her UWF experience with new, incoming students and to officially welcome them to UWF.
Frank's internship to Peru gave her a taste of a U.S. foreign services career, a career path in which Frank said she is interested. Frank's advice to anyone wanting to study abroad is to be ambitious, stay focused, work hard and accomplish personal goals.
After graduation, Frank will continue to work for the Gulf Coast Citizen Diplomacy Council. As a program officer, Frank assists the program coordinator with programming for the International Visitor Leadership Program. The IVLP is an exchange program sponsored by the U.S. Department of State and other exchange programs for professionals and youth.  Frank's roles with membership and as program coordination contributes to the promotion of citizen diplomacy in Northwest Florida. Frank's future goals are to serve in the Peace Corps, while supporting education and youth development, and to continue career pursuits in international affairs and public diplomacy.
Frank stated, "Working at the council has allowed me to grow professionally in the field that I want to pursue – international affairs and public diplomacy.  I have had the opportunity to meet international visitors and to learn not only about their work in their country but also the work happening locally in my community.  This job is truly rewarding."
"Every student should take the opportunity to study abroad… I think it is a great way to remind yourself of your passion… Along the way, you will learn more about yourself and ultimately where you can improve in life," said Frank.
[adrotate group="1"]