Fuegos artificiales del Día de la Independencia en el estadio Blue Wahoos
PENSACOLA, Fla. – El 4 de julio, los fanáticos están invitados a disfrutar del Día de la Independencia en la Bahía en el estadio Blue Wahoos, ¡un evento gratuito para fanáticos de todas las edades! Las puertas del estadio se abrirán al público a las 7 p.m. y una gran cantidad de actividades para la familia estarán disponibles de forma gratuita, incluidos juegos inflables y juegos de realidad virtual. Kazoo y las mascotas militares del equipo también estarán presentes y las concesiones estarán disponibles para su compra. Se permitirá que los fanáticos entren al campo para jugar a la pelota en los jardines. La Sinfónica de Pensacola se presentará en el anfiteatro del Community Maritime Park y su desempeño se mostrará en la placa de video en el estadio.
¡Desde el estadio, los fanáticos tendrán la oportunidad de ver dos espectáculos de fuegos artificiales! A las 9:05 p.m., los Blue Wahoos lanzarán un espectáculo de fuegos artificiales. Después de ese espectáculo, el espectáculo anual de fuegos artificiales del Sertoma Club iluminará la bahía.
Los fanáticos pueden traer mantas para sentarse mientras disfrutan de los espectáculos de fuegos artificiales. No se permitirán alimentos ni bebidas en el exterior.
Asientos especiales garantizados y buffets también estarán disponibles para su compra en el estadio de béisbol. Por $35, los fanáticos pueden obtener un gran asiento para fuegos artificiales y una fiesta privada en el Coors Light Party Deck del estadio.  
Independence Day Fireworks at Blue Wahoos Stadium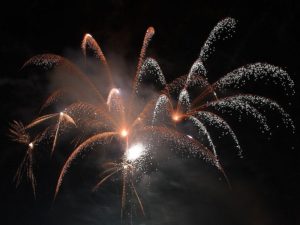 PENSACOLA, Fla. – On the 4th of July, fans are invited to enjoy Independence Day on the Bay at Blue Wahoos Stadium, a free event for fans of all ages! Gates at the stadium will open to the public at 7 p.m. and a host of family-friendly activities will be available for free including inflatable games and virtual reality games. Kazoo and the team's military mascots will also be in attendance and concessions will be available for purchase. Fans will be allowed onto the field to play catch in the outfield. The Pensacola Symphony will perform at the Community Maritime Park amphitheater and their performance will be shown on the video board at the ballpark.
From the ballpark, fans will have the opportunity to watch two fireworks shows! At 9:05 p.m., the Blue Wahoos will launch a prelude fireworks show. Following that show, the annual Sertoma Club fireworks show will light up the bay.
Fans are welcome to bring blankets to sit on while enjoying the fireworks shows. Outside food and beverages will not be permitted.
Special guaranteed seating and buffets will also be available for purchase at the ballpark. For $35, fans can secure a great seat for fireworks and a private party on the stadium's Coors Light Party Deck. 
[adrotate group="1"]