El bombero/paramédico del condado de Walton se convierte en ciudadano estadounidense
PENSACOLA, Florida (PR) – El 20 de septiembre, el Bombero/Paramédico de Walton County Fire Rescue, Alejandro Osorio, se convirtió en ciudadano estadounidense el viernes durante una Ceremonia de Naturalización en Pensacola.
El honor llegó menos de un mes después de jurar como parte de la familia del Walton County Sheriff's Office.
"El mejor momento fue sostener el certificado en mi mano," dijo Osorio. "Para mí, no es solo un pedazo de papel. Para mí, es mi boleto a una segunda oportunidad en la vida."
Nacido en Colombia, Osorio llegó a los Estados Unidos a la edad de 18 años cuando su padre lo trajo a Hollywood, FL para vivir con su abuela.
"Me crié en una familia de bajos ingresos en Columbia," dijo Osorio. "La oportunidad de venir a Estados Unidos es lo mejor que nos ha pasado a mí y a mi familia."
Fue a trabajar y se matriculó en la escuela de la The Broward Fire Academy.
Osorio estaba entre los 81 que representaban a 38 países para prestar juramento de ciudadano estadounidense.
Walton County Firefighter/Paramedic becomes American Citizen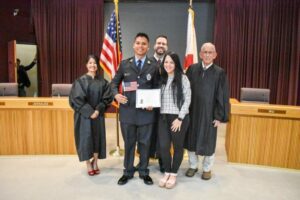 PENSACOLA, Fla. (PR) – On September 20, Walton County Fire Rescue Firefighter/Parademic Alejandro Osorio became a U.S Citizen Friday during a Naturalization Ceremony in Pensacola.
The honor came less than a month after swearing-in as a part of the Walton County Sheriff's Office family.
"The best moment was holding the certificate in my hand," said Osorio. "To me, it's not just a piece of paper. To me, it's my ticket to a second chance at life."
Born in Colombia, Osorio came to the United States at the age of 18 when his father brought him to Hollywood, FL to live with his grandmother.
"I was raised in a low-income family in Columbia," said Osorio. "The opportunity to come to the United States is the best thing that's ever happened to my family and me."
He went to work and put himself through school at The Broward Fire Academy.
Osorio was among 81 others representing 38 countries to take the oath of an American Citizen.
[adrotate group="1"]