El alcalde Stimpson discutirá las necesidades de infraestructura con el presidente Biden, gabinete
MOBILE, Ala. – La alcaldesa de Mobile, Sandy Stimpson, se unió al presidente Joe Biden, la vicepresidenta Kamala Harris y siete gobernadores y alcaldes de todo Estados Unidos para discutir las necesidades críticas de la infraestructura de Mobile y su posición única como un centro multimodal para el transporte y el comercio.
"Mobile está en una posición única para servir a los estadounidenses que viajan y transportan mercancías por carretera, mar, aire y ferrocarril," dijo el alcalde Sandy Stimpson. "Esta es una oportunidad incomparable para reunirse directamente con el presidente Biden y los miembros de su gabinete mientras los líderes nacionales consideran realizar inversiones significativas en la infraestructura de los Estados Unidos."
Mobile es la única ciudad en los EE. UU. donde un importante puerto marítimo se encuentra inmediatamente al lado de un aeropuerto internacional de pasajeros y carga, cinco ferrocarriles de línea corta clase I y 3, dos carreteras interestatales y 15,000 millas de vías navegables interiores. Como una ciudad de 319 años, Mobile también tiene importantes necesidades de infraestructura a pesar de un gran aumento en las mejoras al capital financiadas localmente durante los últimos seis años.
"Mantener la infraestructura es una responsabilidad que comparten todos los niveles del gobierno, pero los impactos se sienten más directamente a nivel local," dijo Stimpson. "Estoy agradecida de que el presidente Biden nos haya ofrecido un asiento en la mesa para discutir formas en las que podemos asociarnos para abordar las necesidades sociales, económicas, ambientales y de la infraestructura en Mobile al igual que en todo el país. Espero con ansias la conversación."
Mayor Stimpson to discuss infrastructure needs with President Biden, Cabinet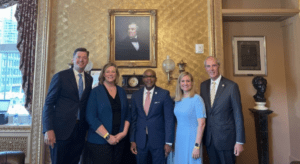 MOBILE, Ala. — Mobile Mayor Sandy Stimpson joined President Joe Biden, Vice President Kamala Harris and seven governors and mayors from across the United States to discuss Mobile's critical infrastructure needs and unique position as a multimodal hub for transportation and commerce.
"Mobile is uniquely positioned to serve Americans traveling and transporting goods by road, sea, air and rail," Mayor Sandy Stimpson said. "This is an unparalleled opportunity to meet directly with President Biden and members of his Cabinet as national leaders consider making significant investments in U.S. infrastructure."
Mobile is the only City in the U.S. where a major seaport sits immediately next to an international passenger and cargo airport, five class I and 3 short line railroads, two interstates and 15,000 miles of inland waterways. As 319-year-old City, Mobile also has significant infrastructure needs despite a major uptick in locally funded capital improvements over the past six years.
"Maintaining infrastructure is a responsibility all levels of government share, but the impacts are felt most directly at the local level." said Stimpson. "I am grateful President Biden has offered us a seat at the table to discuss ways we can partner to address the social, economic, environmental, and infrastructure needs in Mobile and across the country. I'm looking forward to the conversation."
[adrotate group="1"]