Desde la oficina de la representante Donna Shalala: Se introduce legislación para restringir la venta de armas a Maduro.
WASHINGTON, DC – La representante Donna Shalala (FL-27) presentó su primer proyecto de ley titulado "Ley de restricción de armas a Venezuela", una legislación bipartidista para prohibir la exportación de artículos de defensa y materiales de control de delitos de Estados Unidos a las fuerzas de seguridad de Venezuela. Estas herramientas son utilizadas a menudo por el régimen ilegítimo de Maduro para atacar a su propia gente, a menudo con consecuencias letales.
"No podemos permitir que Nicolás Maduro continúe arrasando la democracia y actuando con impunidad," dijo la representante Shalala. "El pueblo de Venezuela ha hablado y exigido que Maduro renuncie, pero sus esfuerzos pacíficos han llevado a las fuerzas de seguridad de Maduro a recurrir a la violencia." en las calles de Venezuela, como lo han hecho a menudo desde que Maduro tomó el poder. Nuestro proyecto de ley garantizará que los elementos de control de multitudes, como equipos antidisturbios y gases lacrimógenos, no se pongan en manos de los aliados y las fuerzas de seguridad de Maduro y se utilicen contra manifestantes pacíficos. Agradezco a mis colegas republicanos y demócratas por unirse a nuestro esfuerzo para ayudar a llevar la paz y la libertad a Venezuela."
Bajo la grave mala gestión del régimen de Maduro, la otrora economía de Venezuela se derrumbó y su gente está más enferma, más pobre y menos libre. Desde que llegó al poder en 2013 después de la muerte del líder Hugo Chávez, Maduro ha socavado las instituciones democráticas de Venezuela. En mayo de 2018, ganó una elección rápida que ha sido ampliamente reconocida por la comunidad internacional como ilegítima. Actualmente, la Asamblea Nacional de Venezuela es la única institución democrática legítima que queda en el país, con Juan Guaidó, el presidente de la Asamblea Nacional, reconocido como el presidente interino del país hasta que se celebren elecciones libres y justas.
El 23 de enero, millones de venezolanos tomaron las calles en Caracas y en todo el mundo para protestar contra el régimen autoritario de Nicolás Maduro, mientras reclaman un retorno a la democracia, el respeto por los derechos humanos y las necesidades básicas, como el acceso a alimentos y medicinas. Trágicamente, al menos 40 manifestantes murieron en protestas recientes, según la Oficina de Derechos Humanos de las Naciones Unidas. Estas personas pagaron el precio final y fueron asesinadas a manos de las fuerzas especiales de Maduro por pedir pacíficamente una Venezuela democrática.
Algunos de los elementos incluidos en la legislación ya están restringidos en virtud de una determinación anual, desde 2006, de que Venezuela coopera plenamente con los esfuerzos antiterroristas de los Estados Unidos. Esta legislación codifica estas restricciones y agrega artículos que se utilizan para el control de delitos como el gas lacrimógeno y los equipos antidisturbios.
Los representantes Mario Díaz-Balart (FL-25), Debbie Wasserman Schultz (FL-23), Albio Sires (NJ-08), Jennifer González Colón (PR), Darren Soto (FL-09) Stephanie Murphy (FL-07) y Debbie Mucarsel-Powell (FL-26) se unieron a la representante Shalala para presentar el proyecto de ley.
El texto completo del proyecto de ley se puede encontrar en https://shalala.house.gov/uploadedfiles/venezuela_arms_restriction_act.pdf.
From the office of Rep. Donna Shalala: Legislation introduced to restrict arms sales to Maduro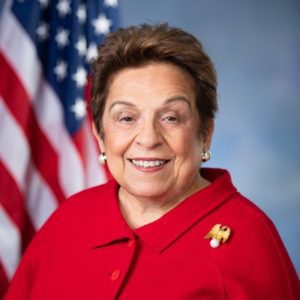 WASHINGTON, DC –Representative Donna Shalala (FL-27) introduced her first bill titled the "Venezuela Arms Restriction Act," bipartisan legislation to prohibit the export of defense articles and crime control materials from the United States to the security forces of Venezuela. These tools are often used by the illegitimate Maduro regime to attack its own people, often with lethal consequences.
"We cannot allow Nicolás Maduro to continue to steamroll democracy and act with impunity," said Rep. Shalala. "The people of Venezuela have spoken and demanded that Maduro to step down, but their peaceful efforts have led Maduro's security forces to resort to violence in the streets of Venezuela, as they often have since Maduro took power. Our bill will ensure that crowd control items, like riot gear and tear gas, will not be placed in the hands of Maduro's cronies and security forces and used against peaceful protestors. I thank my Republican and Democratic colleagues for joining our effort to help bring peace and freedom to Venezuela."
Under the Maduro regime's gross mismanagement, Venezuela's once thriving economy has collapsed and its people are sicker, poorer, and less free. Since coming to power in 2013 after the death of leader Hugo Chavez, Maduro has undermined Venezuela's democratic institutions. In May 2018, he won a snap election that has been widely acknowledged by the international community as being illegitimate. Currently, the National Assembly of Venezuela is the only remaining legitimate democratic institution within the country, with Juan Guaidó, the president of the National Assembly, recognized as the interim president of the country until free and fair elections are held.
On Jan. 23, millions of Venezuelans took to the streets in Caracas and around the world to protest the authoritarian regime of Nicolas Maduro, while demanding a return to democracy, respect for human rights, and basic needs, like access to food and medicine. Tragically, at least 40 protesters have died in recent protests, according to the United Nations Human Rights Office. These individuals paid the ultimate price and were killed at the hands of Maduro's special forces for peacefully calling for a democratic Venezuela.
Some of the items included in the legislation are already restricted by virtue of an annual determination, since 2006, that Venezuela does cooperate fully with U.S. anti-terrorism efforts. This legislation codifies these restrictions and adds articles that are used for crime control such as tear gas and riot gear.
Joining Rep. Shalala in introducing the bill are Representatives Mario Díaz-Balart (FL-25), Debbie Wasserman Schultz (FL-23), Albio Sires (NJ-08), Jennifer González Colón (PR), Darren Soto (FL-09), Stephanie Murphy (FL-07), and Debbie Mucarsel-Powell (FL-26).
The full text of the bill can be found https://shalala.house.gov/uploadedfiles/venezuela_arms_restriction_act.pdf.
[adrotate group="1"]