Cumple usted con la identificación Real?
FLORIDA—El recaudador de impuestos del condado de Escambia, Scott Lunsford, recuerda a los residentes del condado de Escambia que verifiquen las licencias de conducir o la tarjeta de identificación para determinar si cumplen con la Ley federal de identificación real. Si una licencia de conducir o una tarjeta de identificación tiene una estrella dorada en la esquina superior derecha, indica que cumple con la identificación real. Si una credencial no tiene la estrella dorada y vence dentro de los próximos 18 meses, puede visitar EscambiaTaxCollector.com para programar una cita para renovarla.
La Ley Real ID aprobada por el congreso en el 2005 establece los estándares mínimos de seguridad para licencias de conducir emitidas por el estado y tarjetas de identificación y prohíbe a las agencias federales, como TSA, aceptar licencias y tarjetas de identificación para ciertos propósitos oficiales, incluyendo abordar aviones comerciales regulados federalmente. entrar en edificios federales seguros y visitar instalaciones militares. Aunque Florida es un estado conforme, si un ciudadano tiene una licencia de conducir o una tarjeta de identificación no conformes, se le puede solicitar que muestre una segunda forma de identificación para abordar un avión o acceder a estas instalaciones federales.
En el condado de Escambia, el 83 por ciento de las licencias de conducir y el 92 por ciento de las tarjetas de identificación cumplen con la identificación real, dejando más de 45,000 registros del condado de Escambia que no cumplen con la identificación real.
Para cumplir con los requisitos de Real ID, traiga los siguientes documentos a su cita:
Identificación (traiga uno)

Pasaporte actual de EE. UU.
Certificado de nacimiento certificado de los EE. UU.
Certificado de Naturalización
Comprobante de nacimiento consular en el extranjero (FS-240 o FS 545)
Cambios de nombre desde el Nacimiento
Pasaporte de EE. UU. con el nombre correcto (o)
Copia original o certificada de todos los certificados de matrimonio u órdenes judiciales que muestren cambios de nombre. Los documentos deben vincular el registro de nacimiento al nombre actual.

Número de seguridad social

Tarjeta de Seguridad Social
Tarjeta de Medicare o Medicaid con nombre completo y número de seguro social
Talón de pago que muestre el número completo del Seguro Social

Domicilio residencial (no el apartado postal)

Trae dos con direcciones coincidentes completas
Escritura, hipoteca, libreta de pago o arrendamiento
Registro de vehículos de la Florida, título, factura de servicios públicos, factura de teléfono celular

Licencia anterior si no se le destruyó o perdió
Si no son  ciudadanos de EE.UU

Inmigrantes

Tarjeta verde (Formulario I551)
Prueba de presencia legal

No inmigrantes

Tarjeta de autorización de empleo válida (Formulario I-688B o I-766)
Prueba de presencia legal
Además, los padres pueden obtener una tarjeta de identificación con identificación real para sus hijos de cinco años en adelante.
Visite nuestro sitio web en EscambiaTaxCollector.com para obtener más información sobre los requisitos de identificación real, otros servicios de recaudador de impuestos o para hacer una cita.
Are You Real ID Compliant?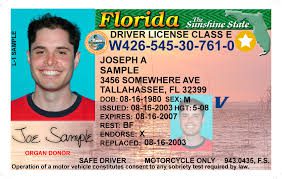 FLORIDA—Escambia County Tax Collector Scott Lunsford is reminding Escambia County residents to check driver licenses or identification card to determine if they comply with the federal Real ID Act. If a driver license or identification card has a gold star in the upper right corner, it indicates Real ID compliant. If a credential does not have the gold star and expires within the next 18 months, one may visit EscambiaTaxCollector.com to make an appointment to renew.
The Real ID Act passed by Congress in 2005 establishes the minimum security standards for state-issued driver licenses and identification cards and prohibits federal agencies, like TSA, from accepting licenses and identification cards for certain official purposes, including boarding federally-regulated commercial aircraft, entering secure federal buildings and visiting military installations. Although Florida is a compliant state, if a citizen has a non-compliant driver license or identification card, he or she may be required to show a second form of identification to board a plane or access these federal facilities.
In Escambia County, 83 percent of driver licenses and 92 percent of identification cards are Real ID compliant, leaving over 45,000 Escambia County records that are not Real ID compliant.
To becoming Real ID compliant bring the following documents to your appointment:
Identification (bring one)

Current U.S. passport
Certified U.S. birth certificate
Certificate of Naturalization
Consular Proof of Birth Abroad (FS-240 or FS 545)
Name change(s) since birth
U.S. passport with correct name (or)
Original or certified copy of all marriage certificates or court orders that show name changes. Documents must link birth record to current name.

Social Security number

Social Security card
Medicare or Medicaid card with full name and Social Security number
Pay stub showing full Social Security number

Residential address (not post office box)
Bring two with complete matching addresses
Deed, mortgage, payment booklet or lease
Florida vehicle registration, title, utility bill, cell phone bill

Previous license if not lost or destroyed
Non-U.S. citizens

Immigrants

Green card (Form I551)
Proof of lawful presence

Non-immigrants

Valid employment authorization card (Form I-688B or I-766)
Proof of lawful presence
Also, parents can obtain a Real ID compliant identification card for their children ages five and up.
Visit our website at EscambiaTaxCollector.com for more information on Real ID requirements, other tax collector services or to make an appointment.
[adrotate group="1"]