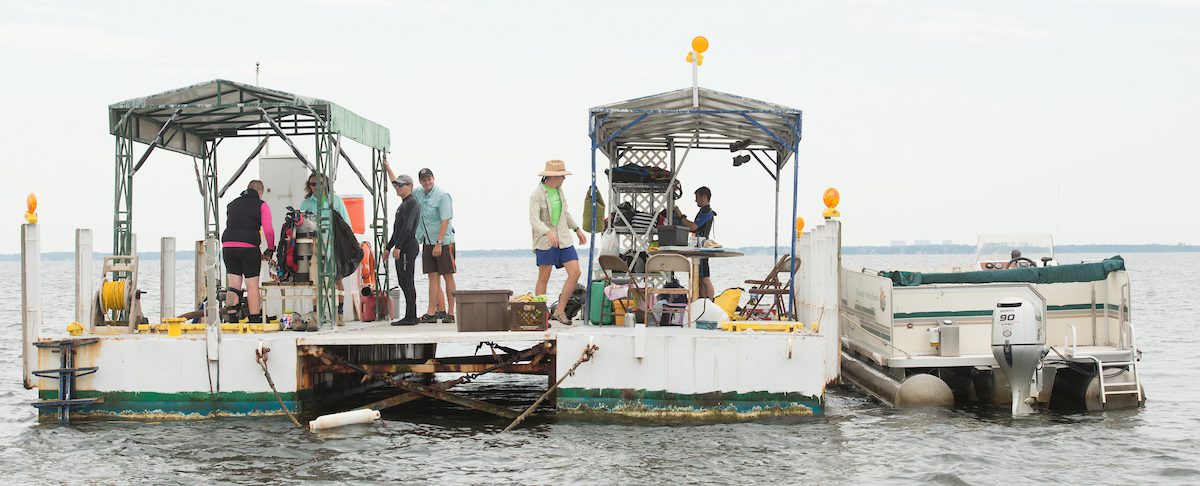 UWF: La construcción del puente de Pensacola Bay  amenaza la excavación del naufragio de Luna de 1559
ENGLISH VERSION Por Melissa Nelson Gabriel para Pensacola News Journal
La construcción del puente nuevo de Pensacola Bay está amenazando la búsqueda de buques adicionales que formaban parte de la flota de Don Tristán de Luna de 1559, dijo el jueves un arqueólogo de la University of West Florida.
John Bratten, arqueólogo náutico de la UWF Archaeology Institute y presidente del departamento de antropología de la universidad, dijo que teme que las barcazas de construcción puedan destruir tres naves que aún no han sido localizadas.
"Podrían conducir un poste o arrastrar una barcaza justo encima de uno de los barcos," dijo.
Bratten dijo que se realizó un estudio inicial para asegurarse de que no había sitios arqueológicos importantes en el camino del nuevo puente, pero la encuesta no tuvo en cuenta todo el tráfico de barcazas y otros equipos pesados de construcción en las áreas circundantes.
Las oficinas regionales y estatales del Florida Department of Transportation's no devolvieron las llamadas telefónicas y correos electrónicos el jueves buscando comentarios sobre las preocupaciones de Bratten.
Skanska USA Civil, la compañía que supervisaba la construcción del puente, tampoco devolvió las llamadas telefónicas y correos electrónicos.
La universidad está solicitando una donación de casi $300,000 del Division of Historical Resources del estado para hacer estudios adicionales de la zona que rodea el puente. Mientras tanto, Bratten dijo que él y otros arqueólogos seguirán vigilando el trabajo.
Un equipo de arqueólogos subacuáticos de la universidad están buceando cerca del puente como parte de la excavación en curso de uno de los tres naufragios de Luna identificados.
Luna, quién era de españa, salió de México con 1.500 soldados, colonos, esclavos e indios aztecas en 11 naves. Su breve intento de formar una colonia en Pensacola se considera el primer intento de colonización europea en lo que hoy es Estados Unidos.
La colonia se terminó después que pasó un huracán, hundió seis de los barcos y destruyó los suministros de los colonos.
En el 2015, La universidad anunció el descubrimiento del sitio del asentamiento cerca de un acantilado con vista al Pensacola Bay en un vecindario del este de Pensacola. El trabajo de excavación de ese sitio está en marcha.
Bratten dijo que la importancia histórica y arqueológica de la terreno y los sitios submarinos son enormes.
"No sabemos de ningún otro sitio como este donde se tiene una flota de barcos del siglo XVI que incluye diferentes tipos de barcos," dijo.
"Ahora que tenemos el terreno, podemos compararlo con los barcos para contar una historia mucho más completa de lo que fue la colonización del siglo XVI."