Complejo de fútbol de Mobile County aprobado
MOBILE, Ala.—La Comisión del Condado de Mobile aprobó los planes para el muy esperado Mobile County Soccer Complex en una reunión en abril. Se aprobaron dos contratos de compra de propiedad y un Aviso para proceder con Neel-Shaffer, Inc., que autoriza el diseño y la planificación del complejo. El proyecto será financiado por fondos discrecionales de capital del Distrito 2. La compra incluye aproximadamente 60 acres cerca de la intersección de la I-65 y la I-10.
El complejo de fútbol del condado de Mobile se construirá sobre una base de pago por uso a medida que los fondos estén disponibles a través de los programas de mejora de capital del condado y otras fuentes. La primera fase incluirá dos campos de calidad de torneos y dos campos de práctica sembrados junto con agua y alcantarillado, riego, un estacionamiento y un camino de entrada. Se espera que la construcción de la Fase I comience a fines de 2018.
Una vez completadas todas las fases, el complejo contará con 10 campos de fútbol de última generación muy similares en diseño a un complejo previamente propuesto en la misma propiedad. Mobile County se asociará con Mobile United Futbol Club para administrar y operar las instalaciones. Se espera que la construcción de la Fase I comience a fines de 2018.
Mobile County Soccer Complex Approved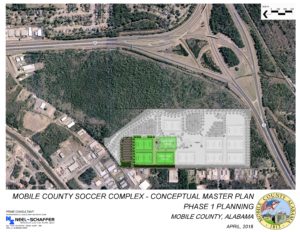 MOBILE, Ala.—The Mobile County Commission approved plans for the highly anticipated Mobile County Soccer Complex at a meeting in April. Approved were two property purchase agreements and a Notice to Proceed with Neel-Shaffer, Inc., authorizing the design and planning for the complex. The project will be funded by District 2 capital discretionary funds. The purchase includes approximately 60 acres near the intersection of I-65 and I-10.
The Mobile County Soccer Complex will be built on a pay-as-you-go basis as funding becomes available through the County's capital improvement programs and other sources. The first phase will include two tournament quality fields and two seeded practice fields along with water and sewer, irrigation, a parking lot and an entrance road. Construction on Phase I is expected to begin at the end of 2018.
Upon completion of all phases, the complex will feature 10 state-of-the-art soccer fields very similar in design to a previously proposed complex on the same property. Mobile County will partner with Mobile United Futbol Club to manage and operate the facility. Phase I construction is expected to begin at the end of 2018.
[adrotate group="1"]