Cinco formas de evitar la gripe
La gripe es un asunto serio, por lo que los síntomas no deben ignorarse. La temporada pasada, los Centros para el Control y Prevención de Enfermedades registraron 80,000 muertes, que fue la temporada más mortal en 40 años. La temporada de gripe no alcanza su punto máximo hasta marzo. Además de vacunarse contra la gripe, los médicos recomiendan tomar algunas medidas preventivas todos los días:
Cinco hábitos que te ayudan a prevenir la gripe:
Evite compartir bolígrafos. Nunca levante una pluma pública. Mantenga una pluma a mano para cualquier situación que pueda aparecer.
Cuando utilice una máquina de tarjetas de débito, adopte el hábito de pinchar el pin de su tarjeta con un nudillo en lugar de la punta de un dedo para evitar la transferencia de gérmenes.
Protégete en la bomba de gas. Agarre una toalla de papel antes de recoger la boquilla de gas. También puede usar la toalla de papel como barrera cuando introduzca la información de su tarjeta de débito / crédito.
La gente tiene más gérmenes en estos días, por lo que evitar un apretón de manos no es tan grosero como se pensaba, especialmente durante la temporada de gripe. Si debe hacerlo, lávese o desinféctese sus manos inmediatamente.
Adquiera el hábito de limpiar su teléfono con un paño desinfectante para reducir la propagación de gérmenes.
Five ways to avoid the flu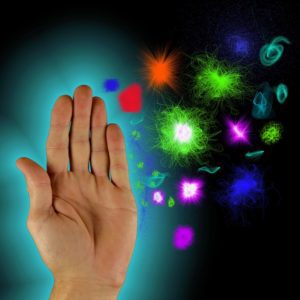 The flu is serious business, so symptoms should not be ignored. Last season the Centers for Disease Control and Prevention recorded 80,000 deaths, which was the deadliest season in 40 years. The flu season doesn't peak until March. In addition to getting a flu shot, physicians advise taking a few every day preventive measures:
Five Habits That Help You Prevent the Flu:
Avoid sharing pens.  Never pick up a public pen. Keep a pen handy for any situation that could pop up.
When using a debit card machine, get into the habit of punching in your card pin with a knuckle instead of a fingertip to avoid transferring germs.
Protect yourself at the gas pump. Grab a paper towel before picking up the gas nozzle. You can also use the paper towel as a barrier when punching in your debit/credit card info.
People are more germ-conscious these days so avoiding a handshake is not as rude as once thought, especially during flu season.  If you must do it, wash or sanitize with your hands immediately.
Get into the habit of wiping your phone down with a disinfecting wipe to cut down on spreading germs.
[adrotate group="1"]