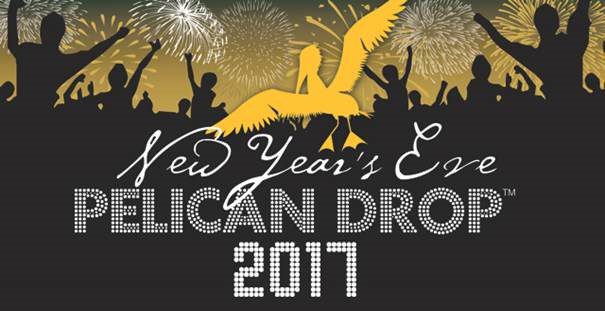 Caída Anual del Pelícano (Pelican Drop) en el Centro de Pensacola Para Celebrar el 2017
PENSACOLA, FLORIDA, DICIEMBRE 15, 2016 – La celebración más popular GRATIS de la Vispera de Año Nuevo en la costa, Pensacola Pelican Drop es un hecho lleno de entretenimiento en vivo y diversión para toda la familia.
La Oficina de Abogados de J.J. Talbott presentatá una vez más The Little Pelican Party, que estará ubicado en Jefferson Street frente al TT Wentworth Museum. A partir de las 6 p.m. la calle se transformará en una fiesta de carnaval con una serie de actividades infantiles GRATIS desde brinca brinca y cursos de obstáculos hasta una fiesta de baile de niños con un DJ en vivo! La calle llena de diversión se transforma con pintores de cara, palomitas de maíz y máquinas de dulces de algodón y una tonelada de regalos incluyendo globos, barras de iluminadas, camisetas conmemorativas y mucho más!
Los niños también tendrán la oportunidad de conocer a muchas mascotas locales, incluyendo el gato de CAT Country, Maverick de Ice Flyers, Kazoo de Blue Wahoos, Argo de UWF y Pensacon Storm Troopers. Habrá suficientes asientos para que los adultos se relajen mientras los niños juegan, y este año el Little Pelican Party no se terminará hasta justo antes de la caída del Pelicano!
La Caída del Pelícano está regresando a la ubicación original en Government Street con una lista completa de música en vivo, incluyendo el muy popular: White Tie Rock Ensemble para tocar en el Año Nuevo. Puede encontrar una lista completa de música y actividades en la página web www.pensacolapelicandrop.com.
Annual Pelican Drop in Downtown Pensacola to Ring in 2017
PENSACOLA, FLORIDA, DECEMBER 15, 2016 — The most popular FREE New Year's Eve celebration on the coast, Pensacola Pelican Drop is happening and packed with live entertainment and fun for the entire family.
The Law Office of J.J. Talbott is once again presenting The Little Pelican Party, which will be located on Jefferson Street in front of TT Wentworth Museum. Starting at 6pm, the street will be transformed into a carnival-themed block party with an array of FREE kids activities from bounce houses and obstacle courses to a kid's dance party with a live DJ! The fun-filled street is transformed with face painters, popcorn & cotton candy machines and a ton of giveaways including balloons, glow bars, commemorative t-shirts and more!
Kids will also have the chance to meet many local mascots including the Cat from CAT Country, Maverick from Ice Flyers, Kazoo from Blue Wahoos, Argo from UWF and the Pensacon Storm Troopers. There will be plenty of seating for adults to relax while the children play, and this year the Little Pelican Party won't stop until just before the Pelican drops!
The Pelican Drop is returning to the original location at Government Street with a full slate of live music including the widely popular: White Tie Rock Ensemble to ring in the New Year.  A full list of music and activities can be found on the website www.pensacolapelicandrop.com. WEAR Channel 3 will once again provide a live broadcast with Sue Straughn officiating countdown duties on the main stage accompanied by a sky filled with fireworks. 
[adrotate group="1"]